Captain Jason Solano and his crew of the Monster Energy Fishing Team began the 2012 SKA fishing tournament trail in full force, traveling to Biloxi, MS, Morehead City, NC, not to mention several venues throughout Florida.
In fact, the team spends approximately eight to nine months a year touring the country, travelling 10,000-plus miles for 15 SKA tournaments plus a series of additional blue-water events including The Grove SLAM!, the Abaco Bill Fish Tournament, and the Canaveral Open, to name just a few.
To more efficiently tow its 39' Deep Impact Center Console (resulting in a combined load capacity easily exceeding 20,000 pounds), the team stepped up its towing prowess this year – upgrading from a Ford F350 and a Myco Gooseneck Trailer to an International Tow Master 4700 hitched with Myco's new All-Welded Aluminum Fifth Wheel Trailer.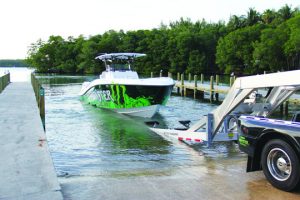 "When we were first started looking at trailer options for this year, we originally intended to use a gooseneck-style unit from the company, which we used last year," says Solano. "It was a great trailer but when it came to using a fifth wheel unit, it demonstrated much better towing capabilities and weight dispersement. We are almost 40 feet long but with the fifth wheel hitch, it shortens the length of the overall unit. It just tows so well."
Launched at the 2012 Miami International Boat Show, Myco's All-Welded Aluminum Fifth Wheel Trailer takes towing larger offshore boats and center consoles to the next level – in both structural integrity and towing capabilities.
"With boats getting much larger ranging from 39 to more than 50 feet with, in some cases, several power plants at the transom, these models are reaching 22,000-23,000 pounds with the trailer," says Bill Tweedie, co-partner of Myco Trailers. "The bumper pull market is still our primary business, but we want to provide our customers with all-welded all-aluminum fifth-wheel or gooseneck trailer as a viable option to safely and efficiently tow larger boats."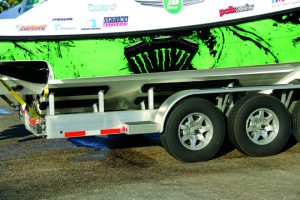 Riding on galvanized stainless steel triple-axles, weighing just 3,600 pounds with a load capacity of 23,000 pounds (gross weight), the All-Welded Aluminum Fifth Wheel Trailer (or gooseneck-style trailers that company also offers) are just that, a strong, all-aluminum structure offering optimum structural integrity – not too mention excellent towing characteristics at highway speeds, city driving and launch ramps.
In fact, the key highlight on Myco's new trailer is the solid fifth wheel hitch itself, located ahead of the bumper in the bed of the truck, allowing the weight of the trailer to rest above and in front of the rear axle (approximately four to five inches). In turn, this allows the truck/trailer to level out easier, provides a tighter center of gravity and decreases the distance between the trailer and tow vehicle, providing improved maneuverability at various speeds and locations. It also eliminates the potential risk of jack-knifing. As each trailer is custom fit to accommodate the tow vehicle, there's optimum clearance for the truck bed gate and the bed sides to provide ample clearance for added maneuverability.
"Fifth wheel and/or gooseneck trailers eliminate the truck having to fight to keep the trailer level," says Tweedie. "From a safety stand-point, fifth wheel trailers/gooseneck trailers are very adaptable as they are better on the truck and just better for all around towing. From a maneuverability stand-point, they also shorten up the length of the trailer and tow vehicle – as the boat is a foot or two closer to the truck. When you are getting up anywhere between 50-70 feet in length and constantly traveling highway speeds, you need a rig as short as possible. Everything is more compact."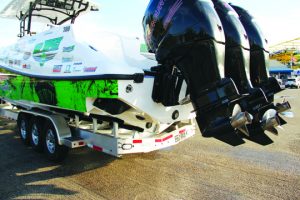 With its all-aluminum construction, and without the use of a stainless steel skeleton that is sometimes incorporated in aluminum trailers, the chance of corrosion is eliminated which is caused by dissimilar metals reacting to each other. For example, Tweedie explained that unless spacer plates are used between the aluminum structure and the steel skeleton, structural integrity is compromised.
"The key with Myco's All-Welded Aluminum Fifth Wheel Trailer is you don't have to worry about the effects of dissimilar metals. If a manufacturer puts a steel structure inside an aluminum structure what's going to happen is (unless there spacer plates between the metals) the sacrificial anode and galvanized zinc fades and electrolysis goes into the aluminum and turns the aluminum to powder – then the owner is left with a trailer with no structural integrity whatsoever."
Like any serious boater clocking several thousand miles a year, launching or receiving a boat comes second nature. But it's also a task that can present its own set of problems. Like all MYCO trailers, the trailer bed is custom-made, providing a tight fit, allowing the boat to practically self-center on the trailer when launching or loading. The bunk rails are also set as low as possible to provide maximum ground clearance, which allows the boat to float free faster, thus keeping the tow vehicle out of the water (depending on the launch ramp).
"When you pull the boat out of the water onto the trailer, the boat just fits like a glove," adds Salono. "That's best way to explain it. You don't have to worry about the boat coming off the trailer no matter how challenging the launch ramp is."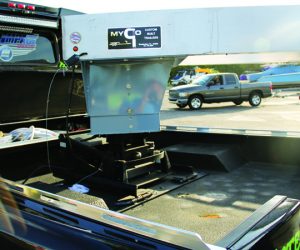 Another benefit of the All-Welded Aluminum Fifth Wheel Trailer is Myco's efficiency in wiring. Featuring its exclusive groundless wiring system, Myco trailers are not used as a "ground" or part of the wiring circuit as it often leads to corrosion where the connectors meet the frame. Instead, the company wires its trailers like a boat, car, or airplane, essentially, with a closed circuit. Heat-Shrink wiring connectors are also used so when warmed with hot air, they release a sealant for an additional layer of corrosion protection, thus reducing connector failure and improving electrical draw.
As Solano and the Monster Energy Fishing Team have completed their first leg of the SKA tournament trail, their towing power is not at all compromised.
"That was our first long trip with the trailer. We didn't even know the boat and trailer were behind us" says George Truesdell, the dedicated wheelman for the Monster Energy Fishing Team. With the 7,000-pound axles and Goodyear Marathon tires, it was a phenomenal ride. With this trailer, we are getting a better ride, the boat is getting a better ride and there is no bouncing or pivoting. Everything about this trailer is done right." www.mycotrailers.com