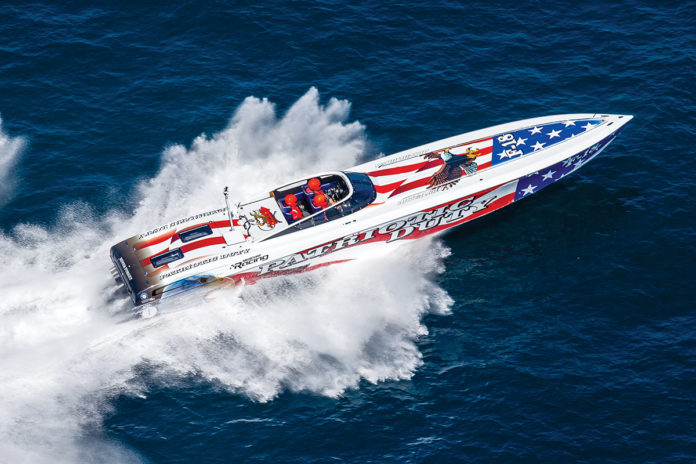 The Patriotic Duty Team smashes the historic San Francisco to Marina del Rey endurance run.

 
By Gregg Mansfield Photos by Erick Bryner/Fast Loud Photography
The San Francisco to Marina del Rey offshore endurance record stood for 35 years, a testament to the difficulty of running down the California Coast.
As the old adage goes, records are made to be broken and the trio of Tony Adams, Steve Seaton and Allen Bellinghausen in September smashed a record set in 1988 and picked up a second record for good measure. The threesome completed the San Francisco to Marina del Rey run in 4 hours, 55 minutes, 33 seconds, then earned the San Francisco to Long Beach APBA/UIM World Record (5:18:19).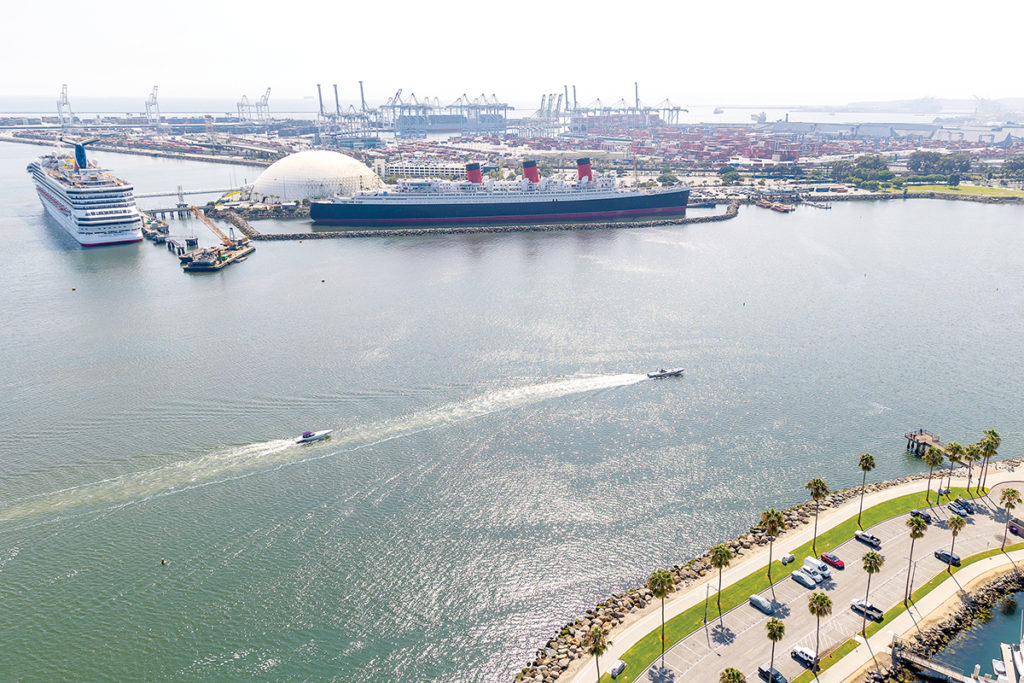 "It always stuck in our minds to do this," said Adams, the driver and boat owner. "During COVID, you do goofy things. You sit at the corner of a bar and start talking about things again and that's kind of how it all happened."
Adams said they started talking years ago about attempting to break the 5:27:22 record that was set by the late Bob Nordskog (founder of Powerboat magazine) with Bob and Norm Teague. Bob Teague, who owns Teague Custom Marine, was instrumental in helping the trio establish the record in the 47' Outerlimits with Mercury Racing 1100/1350 QC4v engines. 
Bob Nordskog's grandson, Erik, presented Seaton, Bellinghausen and Adams with the checkered flag from the historic run his grandfather and the Teague brothers completed 35 years ago. The 2023 record attempt was run with Ocean Cup, an organization dedicated to bringing back offshore endurance events.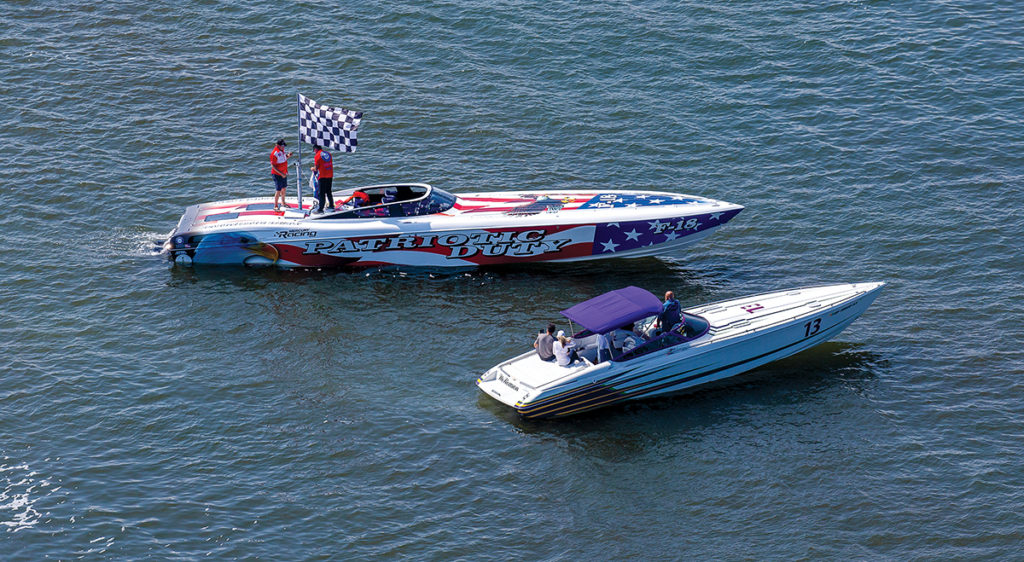 Building a Record Boat
It took at least two years of preparation to get the boat Patriotic Duty and the crew ready for the 435-mile run in the Pacific Ocean.
"To do something like that you have to be prepared," Adams said. "You just don't buy a boat, put a bunch of fuel in it and go for it. That wouldn't be smart."
Adams had gotten to know the late Outerlimits founder Mike Fiore, who told him the 47 GTX V-bottom was one of the strongest boats he'd ever built. Adams found a 47 GTX in North Carolina, brought it back to California and gutted it.
"We thought it was just a fantastic boat, built for what we wanted to do," Adams said.
The biggest challenge was adding spare fuel tanks needed to complete the 435-mile run. The original boat had a 255-gallon fuel tank with two 31-gallon saddle tanks. Adams and his team calculated they needed another 450 gallons to complete the run.
Put the fuel tanks too far forward and the V-bottom will bow steer, while the Mercury Racing engines limited the rear placement. They ended up cutting 22 inches out of the cockpit and putting the 450-gallon tank custom made by IMCO Marine over the existing fuel tank.
Bellinghausen handled the fuel management and served as the navigator. The additional fuel tank was directly behind Bellinghausen and his teammates added a Wile E. Coyote sticker (noted rocket expert) to remind him of his unique position.
"We put two transfer pumps, because I know some of the other people that tried to run had problems with their fuel management, so we had multiple transfer pumps," Adams said.
The Mercury Racing engines burned about 2 gallons per minute with Bellinghausen able to transfer 5 gallons a minute from the spare fuel tank. The team calculated its fuel needs correctly, though they slowed down between Marina del Rey to Long Beach to conserve fuel and still broke the record.
With Seaton throttling, Adams driving and Bellinghausen navigating/fuel management, the team originally planned to run it in 2022 but Adams postponed it because he felt the team wasn't ready. They participated in some Ocean Cup events and did 116-mile practice runs from the Golden Gate Bridge in San Francisco to Monterey.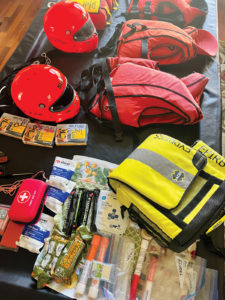 Record Run
When September 15 arrived, the trio was ready. Leaving from the Golden Gate Bridge, the incoming tide created some snotty water as they headed offshore in the Outerlimits with 700 gallons of fuel. While the overall conditions were generally good, they did encounter some fog approaching Monterey in Northern California.
The Patriotic Duty team had contingency plans for an inner and outer route, opting for the latter. At this point the team is running about 20 miles offshore in patchy fog.
"We went an extra eight to 11 miles longer than we needed to but obviously we didn't have a choice," said Adams, noting they dealt with fog for two hours. "There's no wind because the wind would have blown the fog out, so the water was very glassy. Glassy water and fog sitting on top of it, you can't see much, everything kind of blends together."
A helicopter following the team down the California coast had to fly over land to get around the fog. Patriotic Duty was equipped with Satcom Direct, which provided satellite tracking and push-to-talk satellite radios. The helicopter caught up with the boat again near Malibu in Southern California.
"We were tracking, we knew where they were," said Janet Wilson of the Ocean Cup series. "They had the onboard camera, so people could follow along."
About 1,500 people watched the Satcom Direct livestream and by the time Patriotic Duty reached Point Conception in Santa Barbara County, most of the bigger surf and fog was behind them. At this point the boat was averaging 90 mph, and by rule, can't go faster than 100 mph during the endurance run.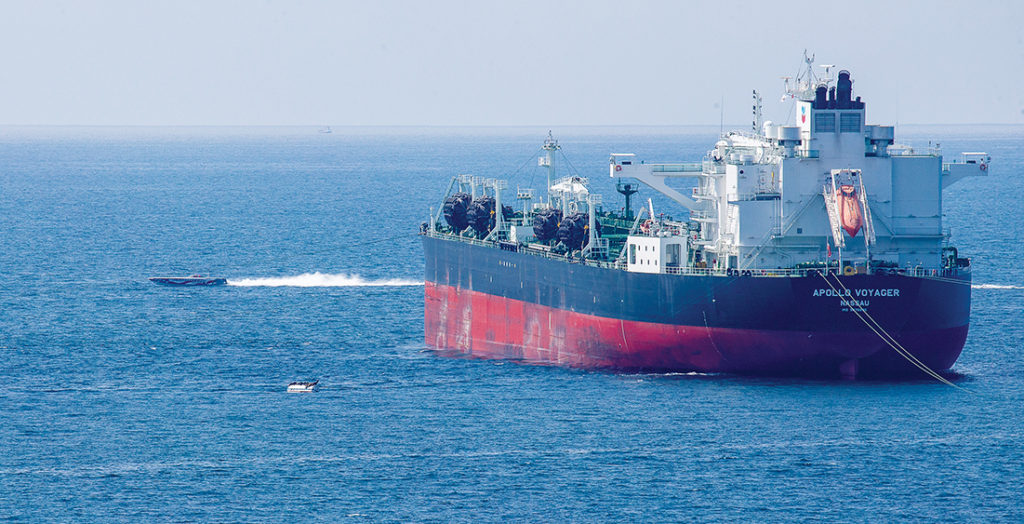 "That's where we ran all the way in so it really picked back up our average speed," Adams said. The team had an average speed of 78.14 mph in setting the UIM World Record from San Francisco to Long Beach.
If breaking two records wasn't enough, the Patriotic Duty team two weeks later defended its Pacific Rum Cup with a 112.5-mile run from Huntington Beach, Calif., around Catalina Island and back to the mainland.
Adams credited Bob Teague and the Teague Custom Marine shop in Valencia, Calif., for the successful endurance runs. The shop custom made sea strainers and other parts while converting the Outerlimits into an endurance boat.
"Bob (Teague) was actually very instrumental in helping us do this, even though he was on the boat with Bob Nordskog," Adams said. "He helped us with a lot of things."
Ocean Cup's Wilson was surprised that a record that stood since the 1980s could be broken so decisively.
"Nigel (Hook) has tried twice, and a team in an Outerlimits cat tried it," Wilson said. "Quite a few teams have tried it and never broke the record."
Adams thinks the record that he, Seaton and Bellinghausen set could stand for a while.
"That's going to be tough to break because we had fairly decent water, a boat with unlimited horsepower almost and we were prepared," Adams said. "I think that record is going to last a long time."