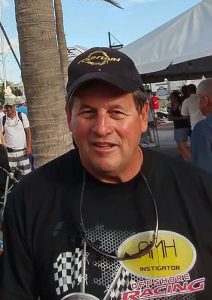 As reported yesterday by speedonthewater.com, the anxiously anticipated kilo speed record attempt by Fountain Powerboats is slated for Feb. 1-3 at the Iconic Marine Group headquarters in Washington, N.C.
The aerodynamically designed 40' V-bottom that looks similar to Peter Meyer's Instigator will be set up like a conventional offshore raceboat with a two-person cockpit, but as of Friday, Reggie Fountain II, the founder of Fountain Powerboats, and Ben Robertson Jr., who was originally slated to throttle the boat are leaning toward having him drive and foot-throttle the record attempt.
"I don't feel like it's that big of a deal," said Robertson. "Johnny did by himself, Brian did it by himself, so I'll just do it by myself." He was referring to John Tomlinson running a custom-built canopied 45' Cigarette in a record attempt years ago and when Brian Forehand ran the 43' Outerlimits, Marker 17 Marine, to a kilo speed record of 180.464 mph in 2014.
There is still a chance that Robertson may team up with a driver to run the boat that will be powered by twin 1,900-hp turbocharged Sterling Performance engines, but initial tests will be run by Robertson on his own.
The team at Fountain Powerboats is still waiting on the engines, but Robertson and Fountain both explained that testing will start with the engines set at 1,450 hp. Once everyone is happy with the boat's performance, the power will be turned up to 1,750 and then for the record attempt, they will be set at their full power of 1,900. The team is using Mercury Racing M6 surface drives and Hering forged propellers. Peter Hledin, president of Douglas Marine, which makes Skater Powerboats, is being consulted on water pickup and Julie Meyer and Peter Meyer of Team Instigator will be providing camera mounts for the boat.
Eleven years ago, Robertson and Fountain set a record of 171.88 mph in a 42' Fountain powered by twin Sterling Performance 1,500-hp engines. That boat was taller and less aerodynamic than the current model, which Robertson said was built by Joel Kenny and rigged by James Bass. Additionally, the new boat has a safety capsule that is being calculated and submitted for UIM approval by Ben Robertson III that is made out of carbon fiber and Kevlar and has a chrome moly steel roll cage. Robertson Jr. designed his own suspension seats on high-tensile steel rails with a five-point safety harness. Whether Robertson Jr. is in the boat by himself or with a driver, they will wear full-face helmets from Tiger Performance that have full-time air and communications with the team on shore and in a helicopter.
For added safety, Robertson Jr. is working with veteran throttleman Billy Moore, who introduced Robertson to an airbag system that Moore had used when racing with Team Qatar. The Fountain kilo boat has two crash bulkheads forward of and abaft the cockpit plus a total of five airbags that are designed to help absorb energy if there is a crash.
"The boat should handle well," said Robertson. "We've spent a lot of time on this boat to make it perfect."
He said he would be happy with a speed of 195 mph and added that his calculations put the boat at 204 mph in ideal conditions. "If I can get 200 mph, I'll jump up and down and shout. I've got 500 more horsepower and a much better boat than I had last time."
As for running the boat himself, Robertson, who is the same age as Fountain was when he ran 171 mph, said, "I'm not worried about my abilities. I got this old from experience."