South Florida Performance
Boats and Nor-Tech
Hi-Performance Boats have teamed up in what has proven
to be a winning combination
Five years ago, Bob Crow went for his first ride in a Nor-Tech 39' performance center-console. "I fell in love with the design and the concept," said Crow, who owns South Florida Performance Boats in Fort Lauderdale. "It was the finest center console I experienced."
Today, his company exclusively sells and represents Nor-Tech Hi-Performance Boats, which are built in Cape Coral, Fla. "We're a marketing and sales firm that only supports Nor-Tech," said Crow. It's a very unique and effective business model." While the official company name is South Florida Performance Boats, Crow said that his customers came up with the moniker SoFloBoats and the name has stuck. Moving forward, Crow said the company will be known and marketed as SoFloBoats.
Diving into a project headfirst is something of a successful habit for Crow. Years ago, he and his partner Lincoln Day launched the sales and marketing platform for the Northstar Yachts yard in the Pacific Northwest. Next, they went for a ride in a McKinna Yacht, which was built in Taiwan. They then became the exclusive dealers for the company, promoting them in Florida and throughout the Eastern United States.
Whether it's Nor-Tech, Northstar or McKinna, all the boats that Crow has been involved with have one thing in common. "We have never been involved with cookie cutter or off-the-shelf boats," said Crow.
When he first got started with Nor-Tech, Crow took Day for a ride on one of the manufacturer's center consoles. Once he had Day on board, literally, Crow said, "We were both in agreement that we wanted to be part of this."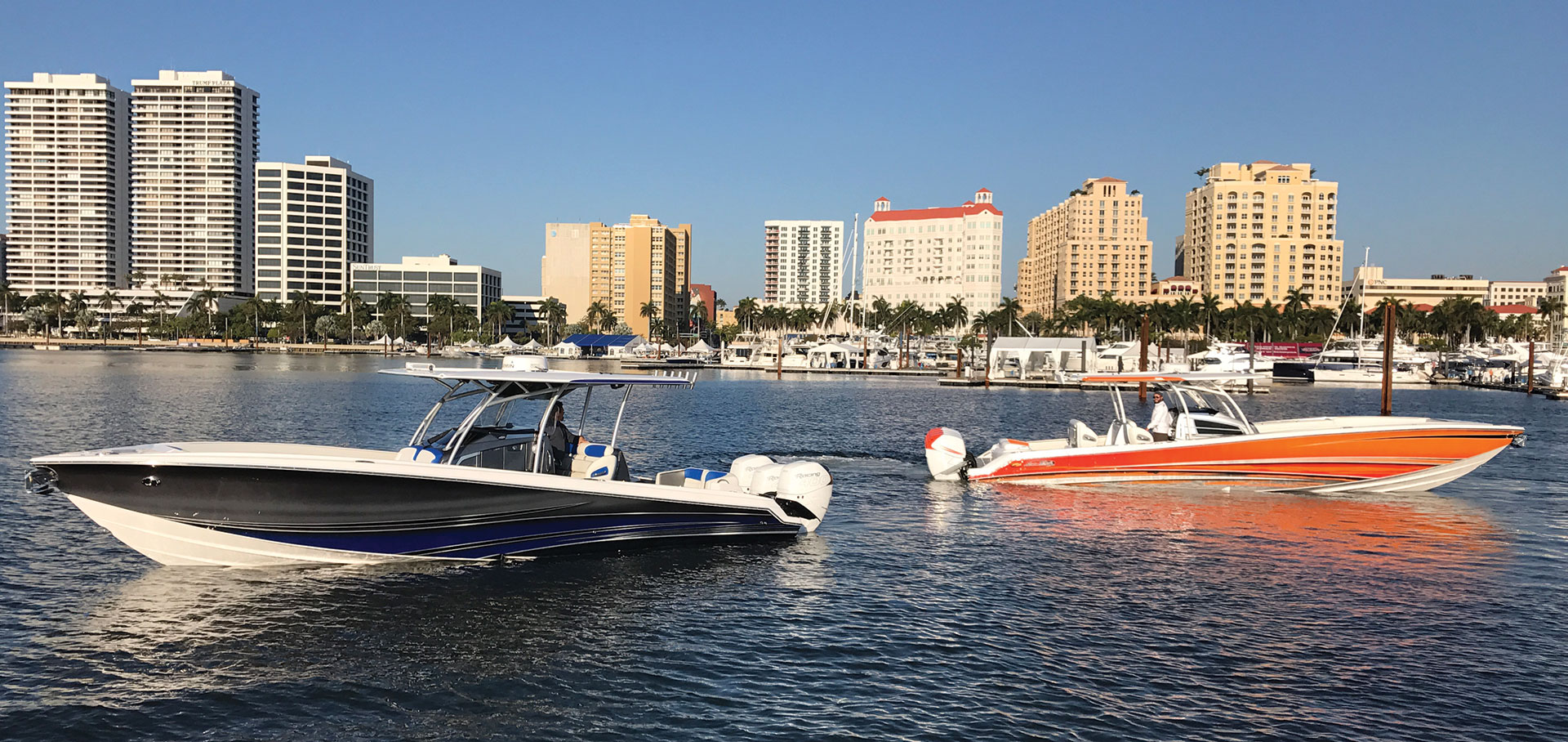 They put together a fund and spec-built a couple Nor-Tech 34' and 39' center-consoles. There were a couple of dealers with boats in stock and Crow felt they didn't know how to properly market them, so he bought the stock boats.
Crow used the custom concept to establish Nor-Tech center consoles in a somewhat-unlikely market—yacht tenders. "Our goal was to spec-build a number of attractive center consoles and get them behind some key yachts in the industry and the momentum picked up for that yacht tender world," he said.
By focusing on getting the boats behind yachts, Crow and SoFloBoats soon took over the tender market. "By the middle of 2014, that's when we really built momentum and started taking orders," he said.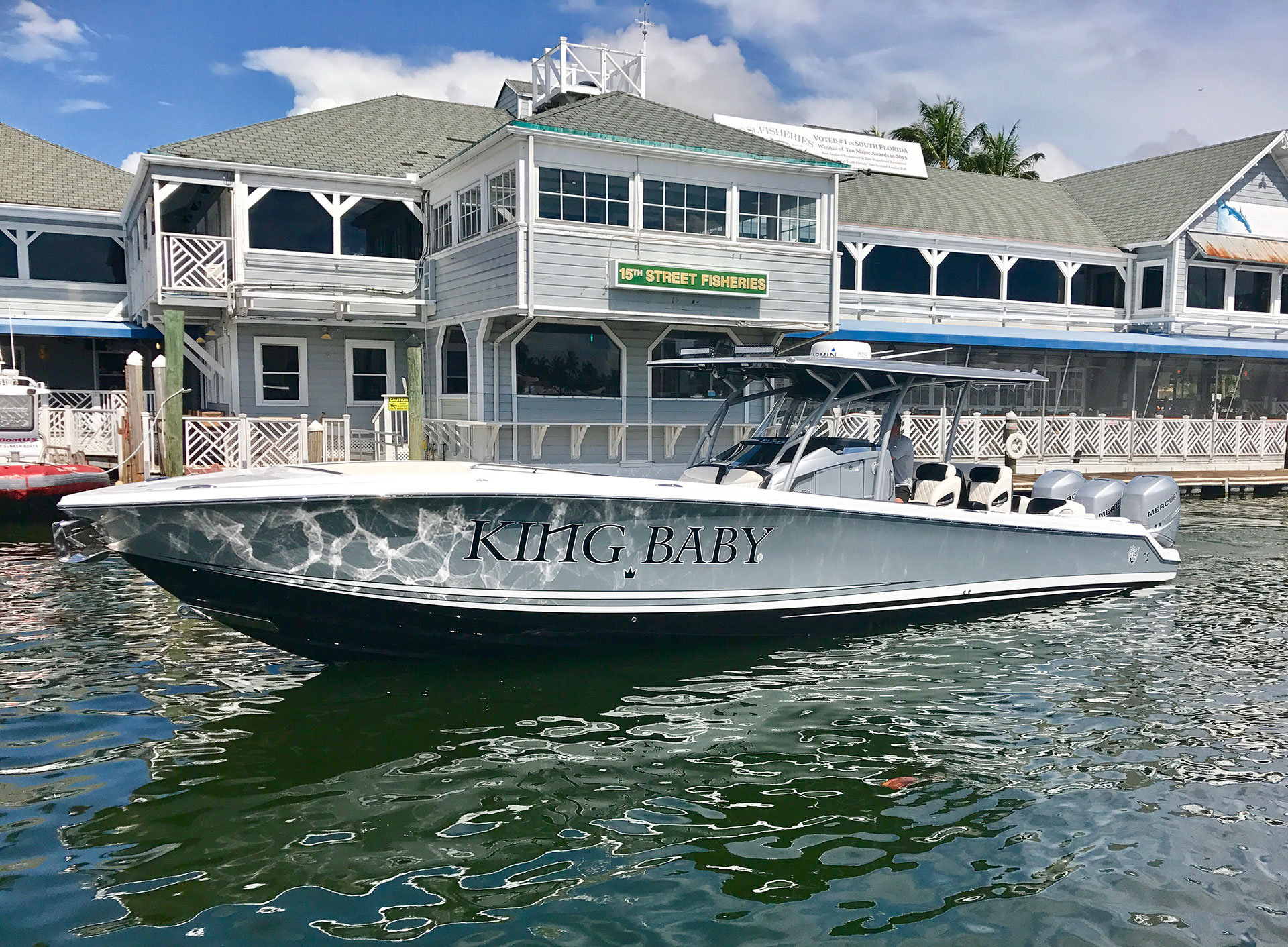 Two of the reasons why SoFloBoats has been so successful with tenders is because the boats tow well and have a dry ride. They track straight and stay on course behind the host vessel when being towed and they deliver the owners from the yacht to harbor with a dry, comfortable ride. For the most part, the 34' and 39' models get towed behind, but the 45' and 56' Nor-Tech tenders are driven by a crew member alongside the larger yacht. And, yes, Crow confirmed that the crew members do battle for the right to drive the tender.
Those who know Crow's background might be surprised to learn the path that he took to SoFloBoats. He and his brother Larry grew up in Detroit and his dad, Larry and mom Billie moved the family to Florida in the late 1970s.
"I jumped into the marine industry the second I got to Florida," said Bob. "My dream was to work for Jacques Cousteau. I just didn't know you needed to be a scientist."
Instead, he worked with Miami Divers, cleaning the bottoms of cruise ships, oil tankers and freighters when they were anchored in Government Cut and the Port of Miami. He had a 100-ton captain's license and did some charter work in the Bahamas as well.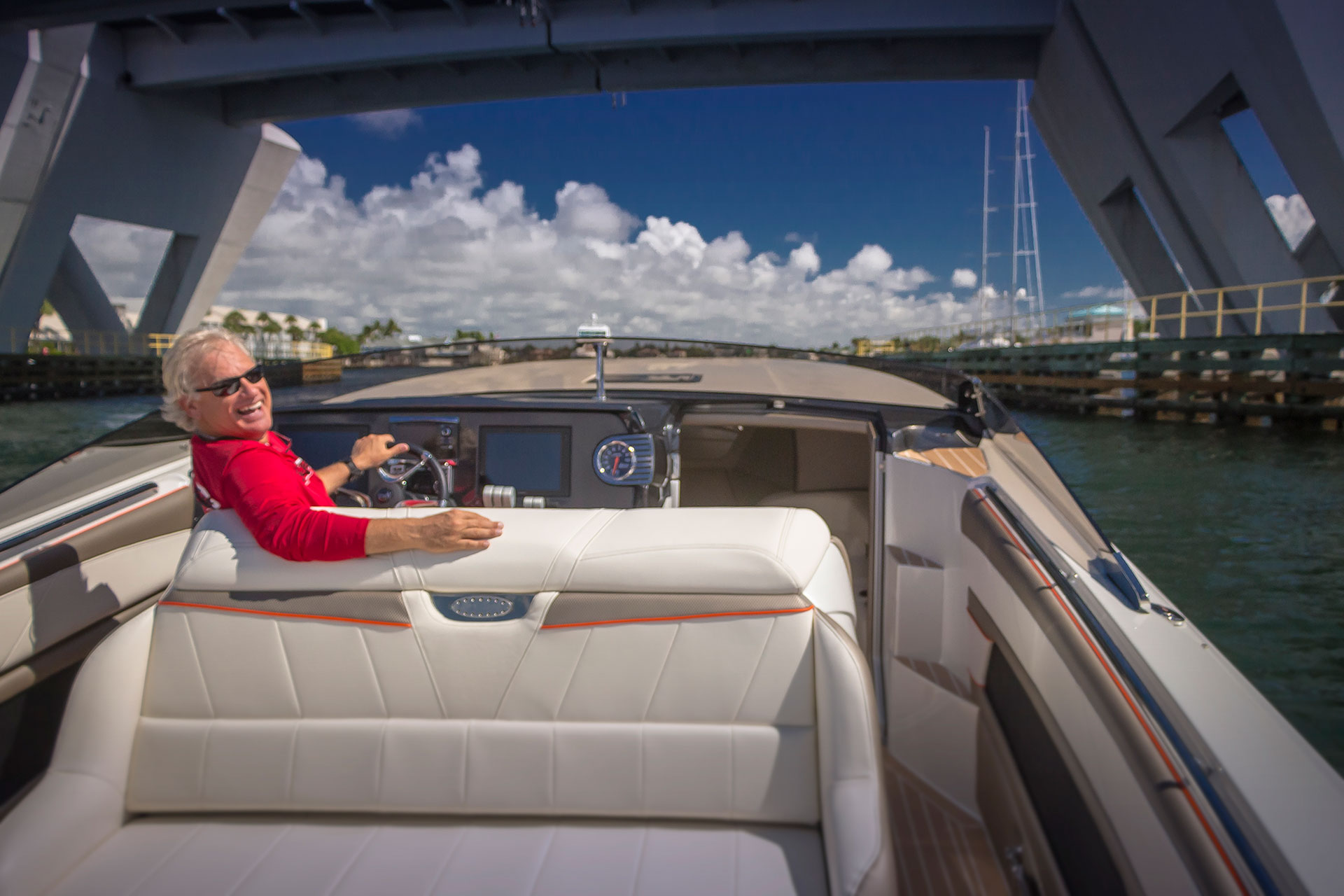 After tiring of scraping boat bottoms, Crow became a yacht broker and it wasn't long before his outgoing personality and tireless work ethic helped make him a success in his new venture.
Today, Crow is 57 years old and is married to his wife Terri. When he's not on the water, he's flying his Stinson 108 bush plane with a 200-hp Lycoming fuel-injected engine. It might sound a little weird to hear about a pilot with a bush plane in Florida, but Crow said he likes to be able to land on a dirt road "at will" and this plane best suits his needs.
Of course, he uses the plane for business trips to visit customers and after establishing itself as a leading supplier of custom tenders, SoFloBoats moved on to selling Nor-Tech center consoles to family boaters in the area.
"Nor-Tech can build a center console that runs 100 mph like nothing," Crow explained. "With the new power options from Mercury and the innovations from the mind of chief designer Nils Johnson, the pairing has changed the way a center console is perceived. This is beyond exciting for the consumer seeing the next level for his love of the water."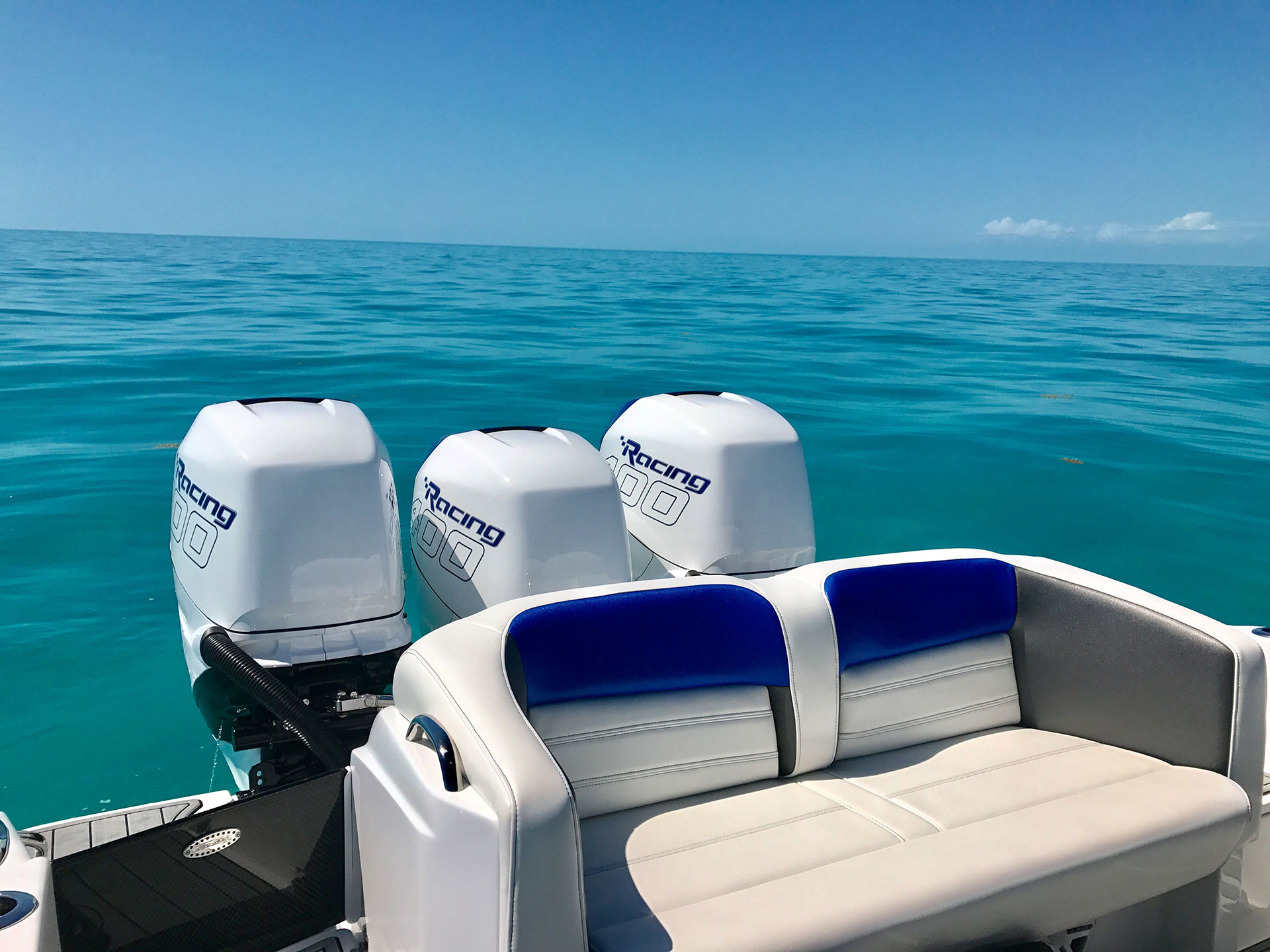 But he was quick to point out that with the Nor-Tech center-consoles, it's about much more than being able to go fast. "You have this real control over this center console at speed," said Crow. "You marry that with the Mercury power and all of a sudden because the boat handles the way it does, the guys who were buying go-fasts are looking at these center consoles."
He also explained that the tender customers have swapped out the standard hardware for custom Italian fixtures and changed the factory carbon fiber pattern for a new one. The boats get upgraded lighting and high-end JL audio. One customer wants a disc-jockey-quality turntable system built into his boat.
To keep up with customer demand, Crow is in contact with the Nor-Tech factory frequently, suggesting upgrades or options that the manufacturer should consider.
"It really is nice that he does push us because it makes us better as a manufacturer," said Nor-Tech Hi-Performance Boats president Trond Schou.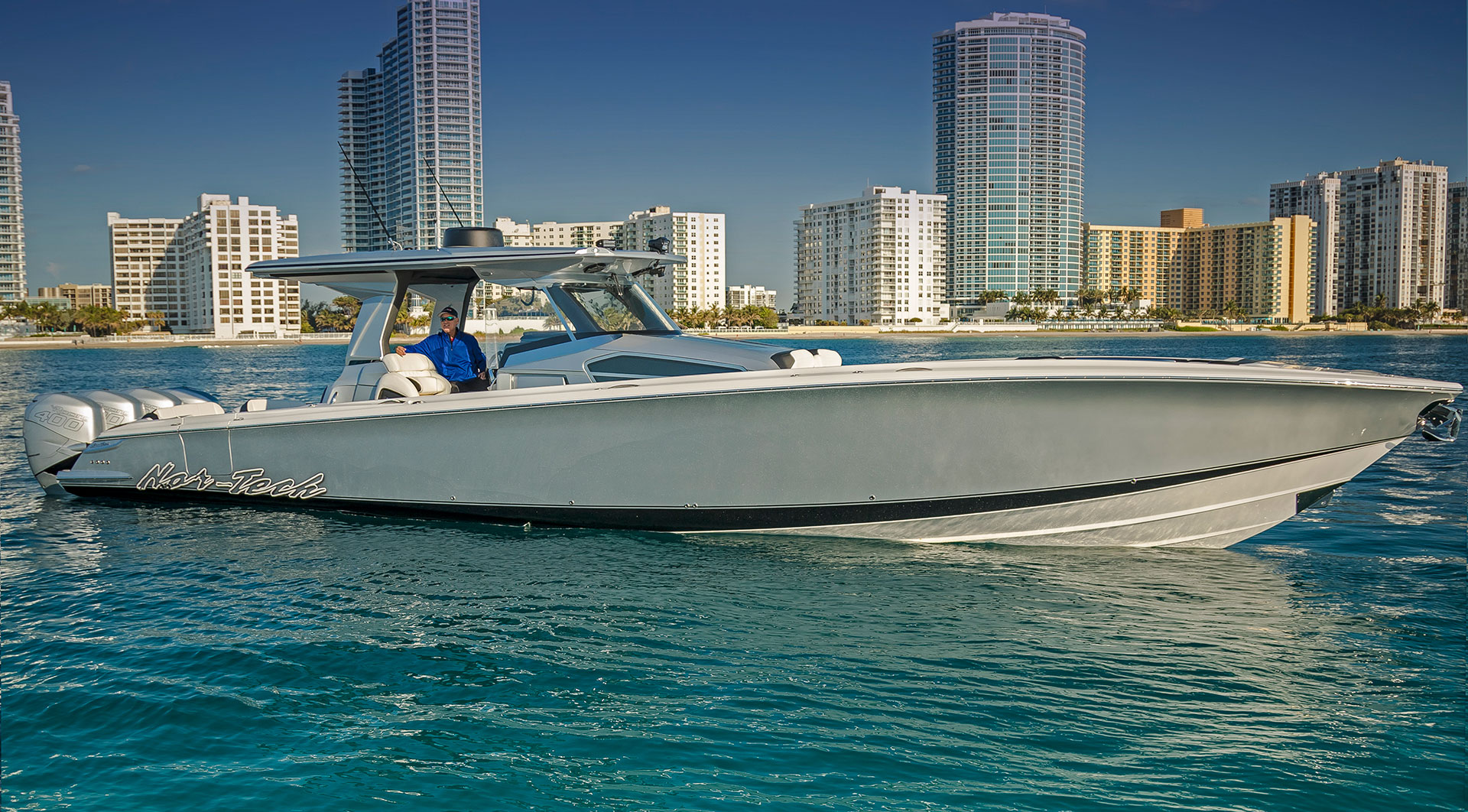 Geoff Tomlinson is the Nor-Tech Dealer Manager and he said he talks to Crow at least two to three times per day. "Bob is our Number One volume dealer for the last two years," said Tomlinson. "He's very savvy and there's something about him that you don't feel like you're sitting down with a salesman. He's just so hands-on with every single project he has going on. You can tell with Bob it's a pure passion. He loves doing this."
A couple of years ago when the Miami International Boat Show opened at its current location, it could be argued that Nor-Tech stole the show with the debut of its 45' center console powered by five Mercury Racing Verado 400R outboards. "By the time the (Fort Lauderdale) boat show starts, we'll have boat number seven delivered, but we have 30 of those on order," said Crow. He explained that 30 is the total number of the 45-footer being built, including other dealers, but his company has sold the majority of them.
When you're dealing with owners of luxury yachts, there's a level of service that's expected and SoFloBoats has developed a turn-key service program that is key to maintaining good relationships with its customers. Because the facility is located right at the end of 15th Street in Fort Lauderdale near Port Everglades, Bob's brother Larry Crow, who runs the service department, will meet the owner of a boat that's coming in for repairs, go over what's needed and take it from there. "His job is to make sure that everyone is happy after they buy their boat," said Bob Crow. "We need to have a high-end interface with the clients after they buy the boats."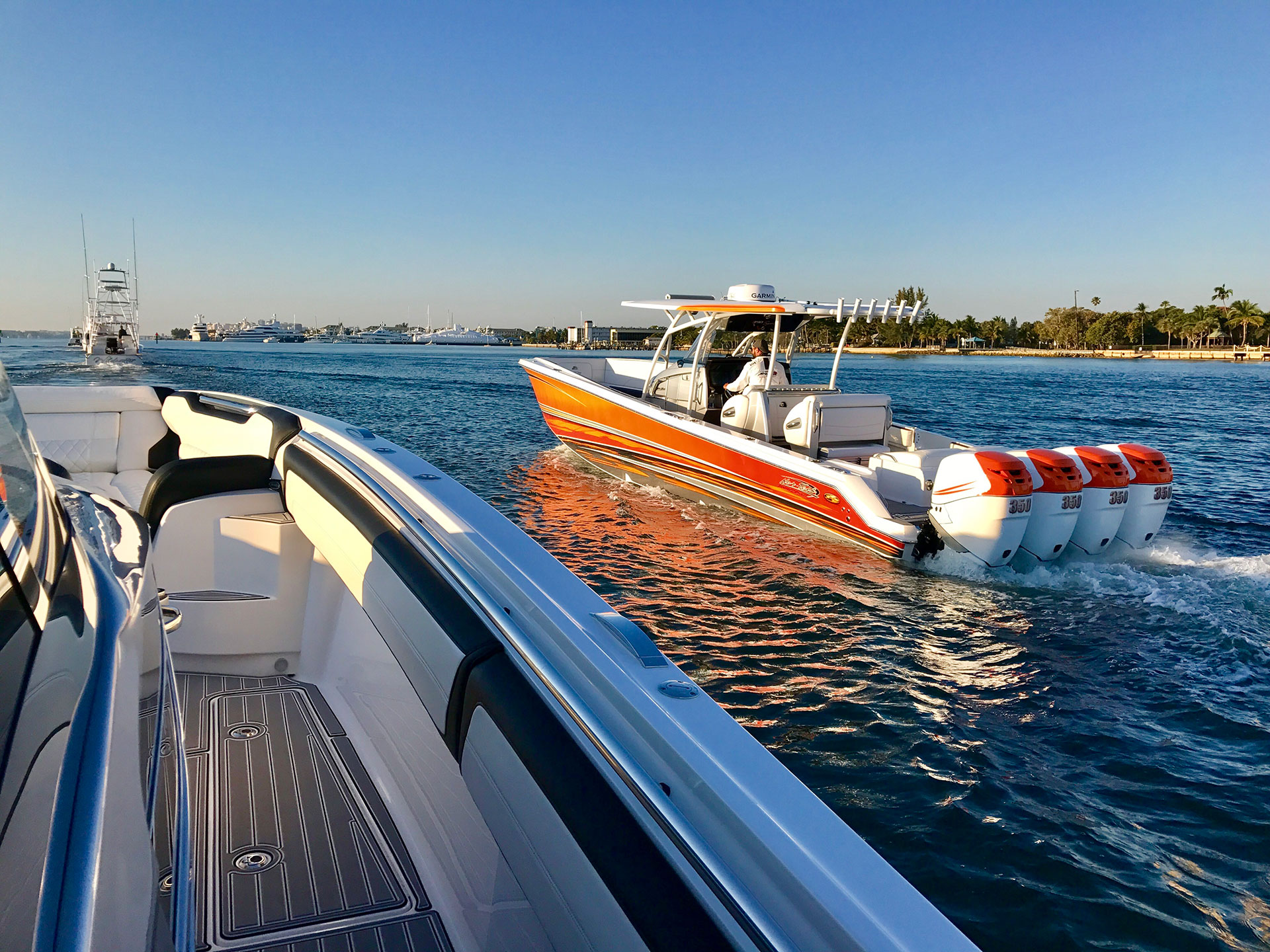 Other key personnel at SoFloBoats include Tommy Mason, whose family formerly owned Midnight Express and who is in sales and customer support and Kellie Mackenroth coordinates the service and follow-up. In the back room, office manager Scott Irons keeps all the paperwork in order and Crow's longtime business partner Day, who is always in the background working towards developing the company to the next level.
Moving forward, with the yacht tender and performance-boat markets well in hand, Crow said now he's going after the offshore fishing market. His company sponsors an all-female fishing team, and after cleaning up from Hurricane Irma, SoFloBoats was in full preparation mode for the Fort Lauderdale International Boat Show.
The dealership will have a Nor-Tech 34' center console with triple 350-hp Mercury Verado outboards with more of a poker-run setup at the Bahia Mar plus another boat in the convention center with more of a fishing package including a large livewell, radar, outriggers and more.
Of course, Crow was quick to point out that almost any Nor-Tech boats that South Florida Performance Boats builds could still show up at a poker run and fit right in. With Mercury's high-performance outboards proving themselves as reliable, efficient power sources, the boats are in high demand. "They didn't re-create something," Crow said of Nor-Tech. "They reinvented what they already had." The same could be said of South Florida Performance Boats.