Jim Agles had a long and storied career in offshore powerboat racing. He won numerous championships and spent plenty of time at speeds exceeding 100 mph. So what kind of boat does he spend most of his time on today?
A 27' pontoon boat powered by a 300-hp Mercury outboard. "In six months, I put 135 hours on it," he said from his home in Cape Coral, Fla.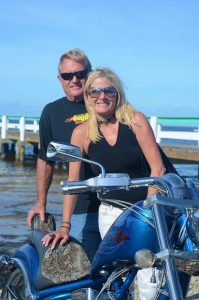 Agles, now 70, spent much of his adult life in the Midwest. He had a few car dealerships in Illinois and sold a lot of boats for legendary tunnel-boat racer Bill Seebold, who built outboard- and stern drive-powered pleasure boats. He also raced in a couple classes in offshore powerboat racing with his Mr. Goodwrench team. After selling his auto dealerships, Agles and his wife Kelli moved to Cape Coral and Agles has been taking orders for the new Pilini Marine 34' catamaran. He's been friends with Pilini Marine president Jay Pilini for decades and is impressed with the new model.
"The boat is a completely new design by Jay," said Agles. It has good lines." The boat is a big catamaran with an overall length of 34'3", a beam of 20'1" and a tunnel width of 4'11". All of the first five boats have been ordered with Mercury Racing Verado 400R outboards. "They're a bulletproof phenomenal motor," Agles said. "The simplicity of a Verado, they're incredible."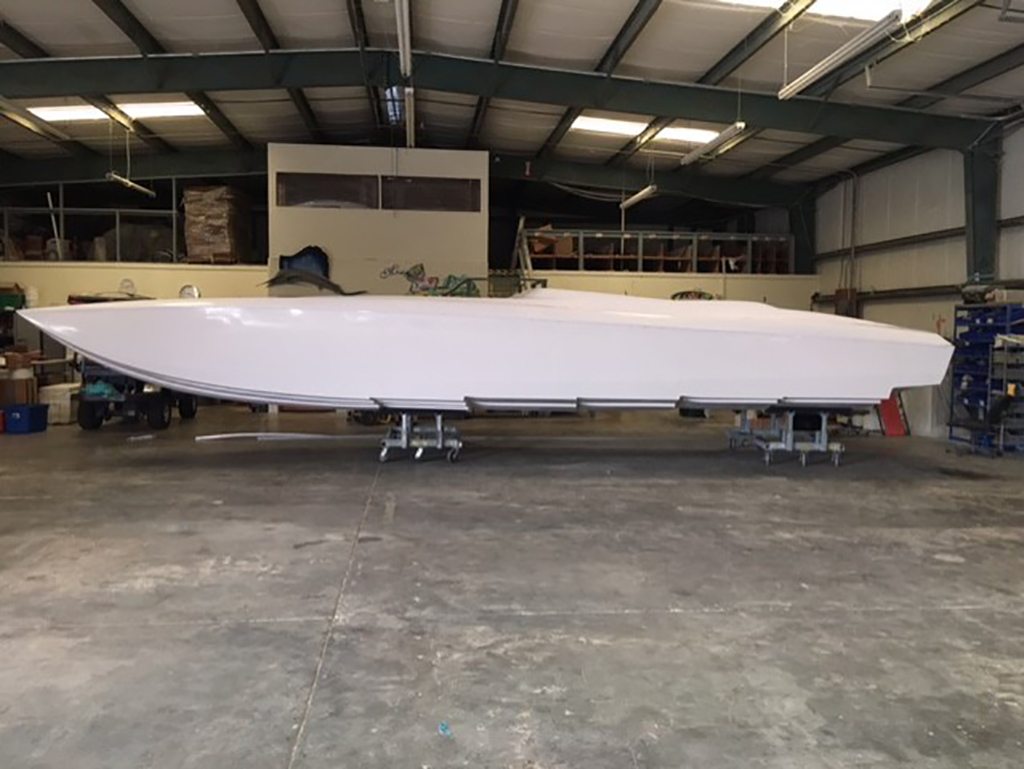 Agles draws on a long and successful background in performance on which to base his opinions of the new Pilini design. He started in offshore racing with Don Onken, current owner of the American Ethanol team. Onken had a 38' Bertram hull and he called Agles and said he would provide the hull if Agles would provide the big motors he was building for another boat. The two teamed up and the boat that was restored in the same shop that is now home to the American Ethanol Mystic catamaran.
Onken and Agles ran the Mr. Goodwrech to many championships in American Powerboat Association and U.S. Offshore Powerboat Association competition. Then Agles split off to race a boat for Challenger powerboats in the Modified class. He and Onken took a shot at boat manufacturing when they bought Mach One boats, which was a popular name in the Midwest. That didn't work out so well, so both parties moved on to other projects. Regarding the American Ethanol boat, Agles said, "I'm happy for Jim and proud of him for what he's done with that boat."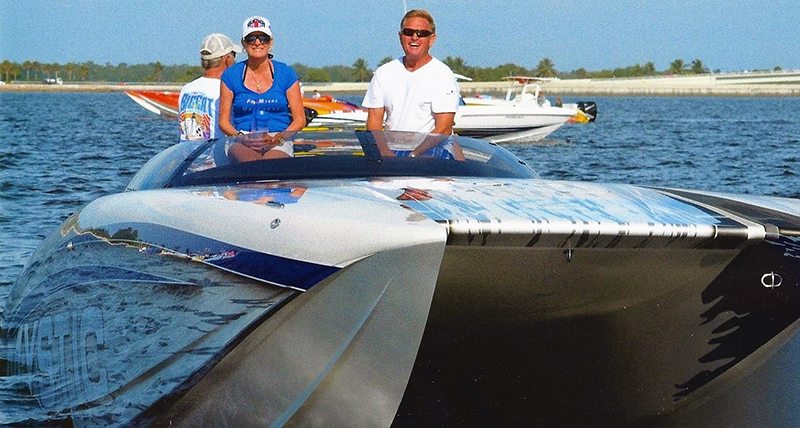 Today at Agles Motorsports, Jim Agles sells rare muscle cars as well as performance boats and he buys and sells real-estate on the West Coast of Florida. He owns a 44' Mystic catamaran powered by twin Mercury Racing HP700 SCis that he has used in many poker runs and is for sale. He's a member of the Fort Myers Offshore performance boat club and enjoys participating in the organization's events. But his short-term goal is a simple one, to make sure his friend's new model gets the attention it deserves. "I'm going to devote my time to pushing Jay's 34," he said. That's a heck of an endorsement.