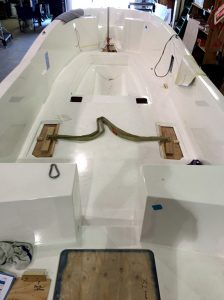 Offshore enthusiasts heading to this year's Fort Lauderdale International Boats Show will have the opportunity for a close-up and personal look at Sunsation Powerboats' 32 CCX, the company's latest addition to its popular Center Cabin Xtreme (CCX) line.
"It's in paint right now and should be ready next week for assembly," said Joe Schaldenbrand of Sunsation Powerboats. "It will be 32 feet with a nine-foot beam and be positioned proportionally between our existing 29 CCX and the 34 CCX models."
The 32 CCX will continue with the Center Cabin X-Treme concept featuring a large cabin and ample lounging areas, above and below decks. A fishing option is also available to include downriggers, livewells, and bait prep stations. Standard power for the 32 CCX is twin 350 Verado Mercury outboards and will also be available with Mercury Racing's new Verado 400R powerhouses.
The 56th Annual Fort Lauderdale International Boat Show will be held from November 5 to 9, 2015.
For more information visit www.sunsationpowerboats.com