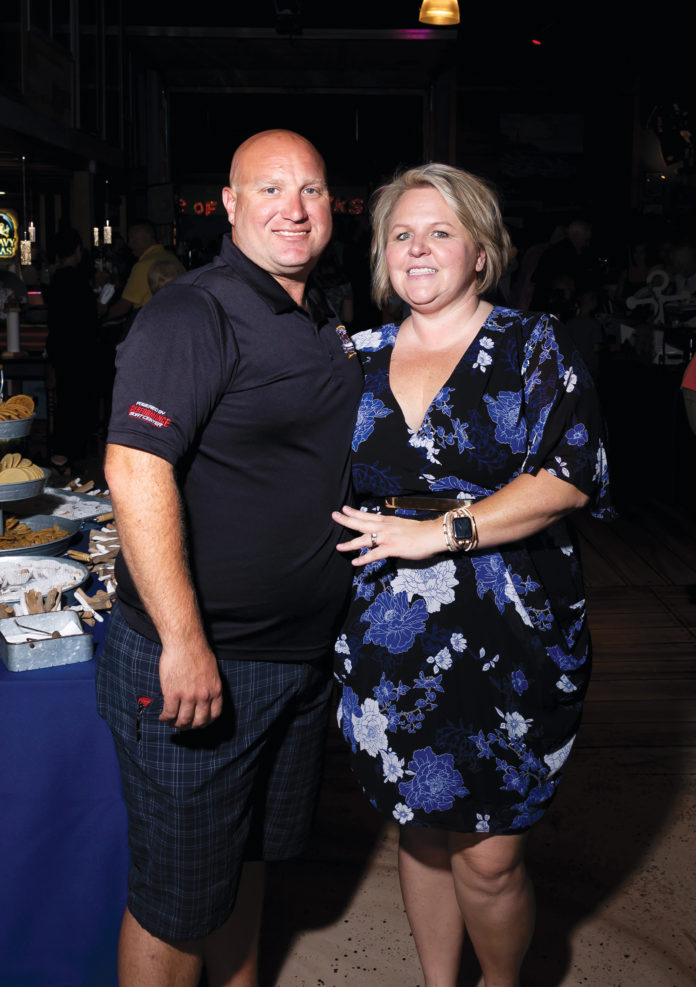 As the Lake of the Ozarks Shootout in Missouri celebrates its 35th year in August, the event has never been more popular.
Dubbed the "largest unsanctioned charity boat race in the U.S.," the Shootout will draw around 100,000 people to the Lake of the Ozarks region, August 19-27. Whether attending the street fair or the Shootout, the seamless events are thanks to a year-long planning process by organizers.
This year's Shootout is the second for executive director and longtime Shootout volunteer Leah Martin, who was hired by the seven-member Board of Directors. It's hard to argue with the results. The 2022 Shootout raised a record $625,000 for charity. More than 40 nonprofit organizations, police and fire departments benefit from the funds.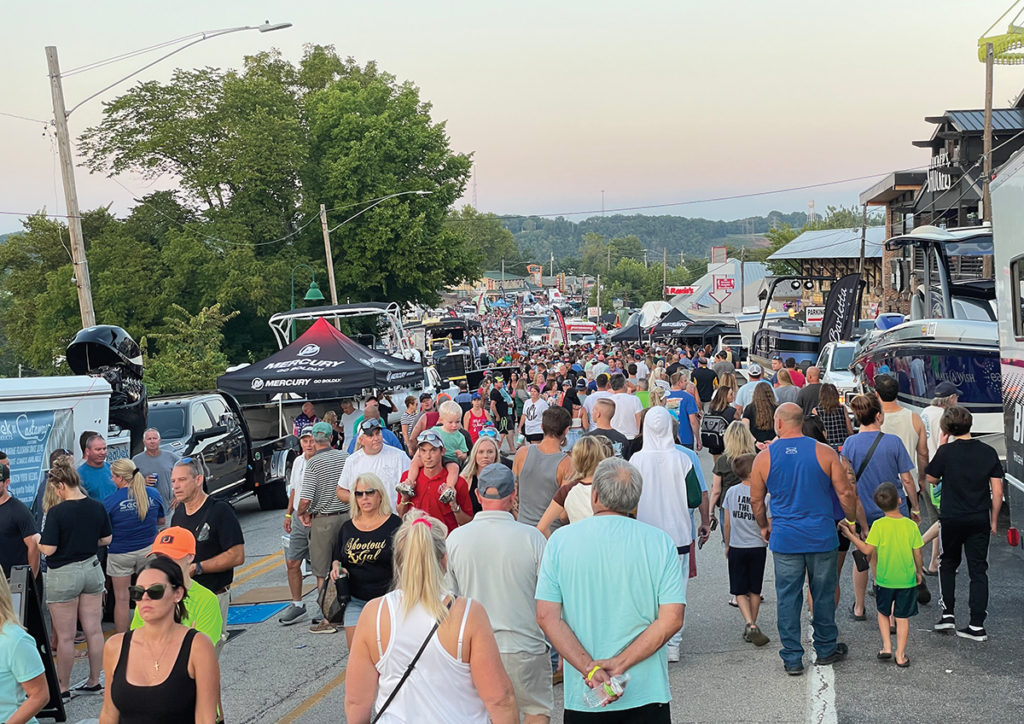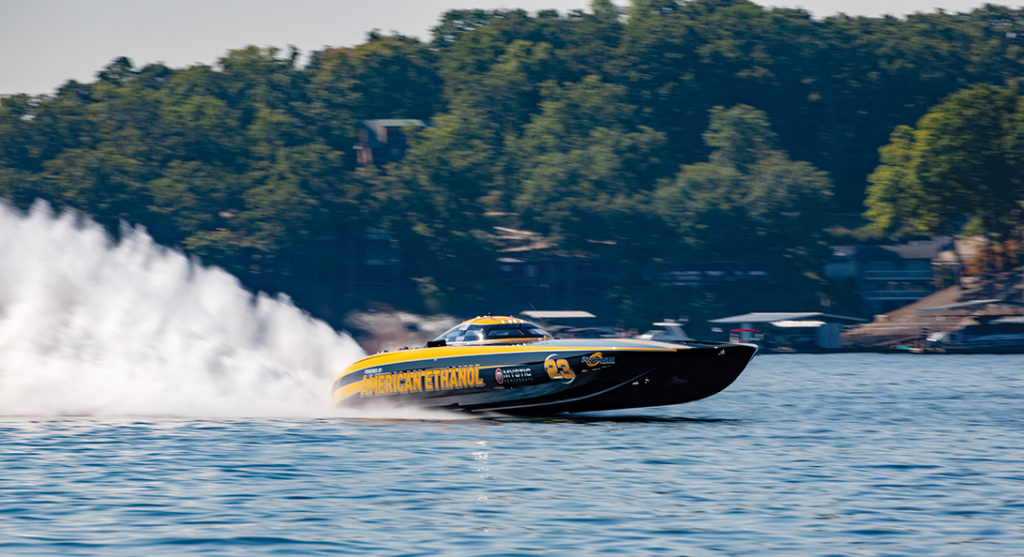 Martin credits the 800 volunteers who not only stage the two-day Shootout, but the events leading up the weekend including poker runs, rides for Make -A-Wish families and a golf tournament.
Presented by Performance Boat Center, the 2023 Shootout will see some changes. P1 Offshore will handle the television coverage and bring it to a national television audience. Organizers have added APBA-sanctioned kilo runs on Sunday afternoon to the event that takes place at Captain Ron's Bar & Grill in Sunrise Beach.
How did you come into the role of executive director for Lake of the Ozarks Shootout?
Leah Martin: I was the director of advocacy for multiple states for the American Lung Association, and then I worked for the American Cancer Society prior to that. I've worked for national nonprofits for my entire career. I decided to leave my career with national organizations and took on some contracts with nonprofits, and asked if the Shootout was interested.
I thought that it would be like this small nonprofit contract, I did not know the amount of time it would take. I was familiar with the Shootout because my husband runs the start boat, so I volunteered 12 years prior. My husband is actually in the (Lake of the Ozarks Shootout) Hall of Fame. We're definitely not new to this.
What does the executive director's position involve?
LM: I spend a lot of my time working with potential sponsors, working on sponsorships and working with our volunteers. I see my role as making sure that I'm supporting the volunteers. A lot of our events have chairs and co-chairs and committees, and I work to support them.
I spend a lot of time planning events and working with water patrol. I was at City Council for our street permit getting that passed. It's bringing everybody to the table to make sure that we're having a safe, fun event and raising the most money we can for charities.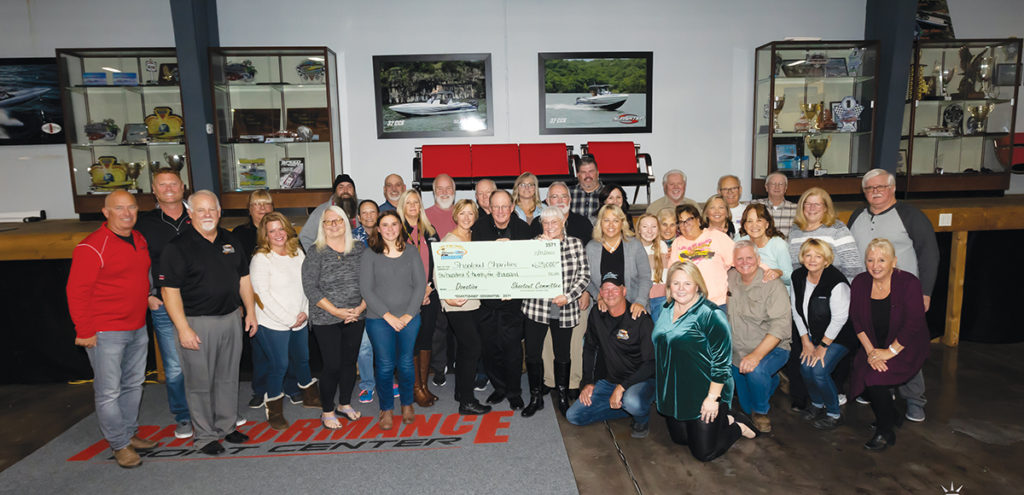 The Shootout hosts a lot of events prior to the Shootout weekend. Does that give the community an opportunity to be involved if boats aren't a priority?
LM: It really engages the local community, but I will tell you, we have boaters and sponsors that come in just for the golf tournament or Run What Ya Brung (Poker Run). It's just a good way to kind of separate some of those events. Again, they were all in August previously, so all those events were going to support the Shootout mission, but we were just exhausting our resources and exhausting our volunteers. By moving them, we really didn't lose support for that. It's a good mix of both.
Can you talk about the changes on the media side this year?
LM: We contracted with Benne Media in the past for production and radio, and we're still working with them for our radio. When I started, the board said they'd love to see this go to a national event and didn't realize quite how huge it was compared to the scale of other boating events.
P1 Offshore was at the event last year and I had them come in and look at the event. We had some bids out for production and just felt like they knew the boating world. They have a contract with CBS Sports and Bally Sports, so they really brought the most to the table when it came down for bids and for looking at where we would go with the Shootout. We felt like the national exposure would be great for our event, great for performance boating in general, and a huge benefit to our sponsors.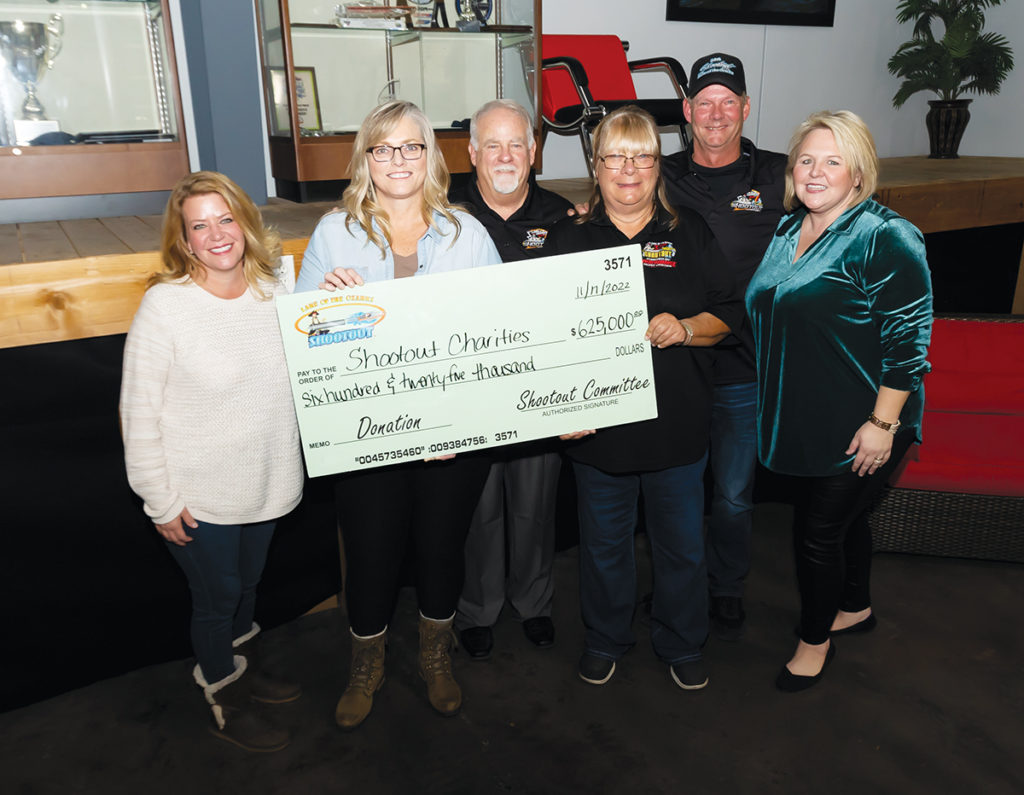 What changes will viewers notice with the new production?
LM: The biggest improvement we're going to see are the additional cameras. We previously had a camera on start, a camera on finish and down on the docks. This year we're adding live drone footage, we're adding a camera midcourse and then we're also adding a camera out on the water in the pit area which we call the staging area for boaters. We'll have someone out there in a (rigid inflatable boat), where they can come right up next to the racers and interview the racers on the water.
I think it'll be more racer focused. We're going to try to get as much information and backstory on our racers and really make that enjoyable so you're not just watching boats shoot down the course.
Do you have any concerns that the Shootout can grow too big?
LM: I think growth is good. I'm not someone that enjoys standing still or being mediocre. Where we may not be able to increase capacity, we can always increase quality and we'll continue to do that. As we continue to change and improve events, there will be natural growth as it moves forward.
The lake is huge, and it's growing, and they're building more housing here, new hotels are coming, and national chains are coming. As long as we can house the people, we have plenty of shoreline to be able to fit them for the races.
How much money did the Lake of the Ozarks Shootout raise for charity in 2022?
LM: We raised $625,000 for the local community and added an assistant director to the event this year, Rickie Smith. I'm very proud of that. Our goal is to fly through that number.
How many volunteers do you have and what type of duties do they handle?
LM: Volunteers do everything including cleaning up beer cans after the street party, selling merchandise, setting up tents to manage parking, helping to control the no-wake zone, registration and so many other roles. It definitely requires all-hands-on-deck.
We had a little under 9,000 volunteer hours last year and around 800 volunteers. These volunteers put in a lot of time and are very committed to the organization, and they truly are the heartbeat. We often talk about everything else about the Shootout but the volunteers, if we didn't have them, the events wouldn't go as smoothly as they do, we wouldn't be able to raise the money that we raise, we wouldn't be able to continue to have that growth and sustainability.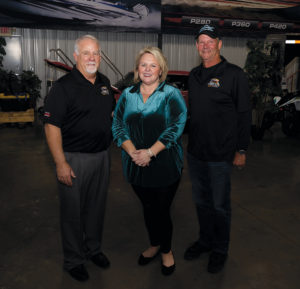 A lot of nonprofits in the community count on the money raised from the Shootout. Do you feel a greater responsibility to raise that money and make sure it happens?
LM: Absolutely. It is a part of the budget, if you look at Coffman Bend (Fire Department), is one of the last membership districts in our state. Their annual operating budget is $90,000, they received $60,000 from our organization last year. That was double the number than what they've received in the past because we had such substantial growth with how much we raised. 
For them that meant new safety equipment, so for those residents in that area they now have a fire department that has better radios, and one year they purchased a fire boat with Shootout funds. They really depend on what the Shootout gives them for their operating expenses, but also to be able to improve the safety of the lake area within the region they serve. So that's something I always think about.
With the Shootout celebrating its 35th anniversary, do you have any special events planned to mark it?
LM: It's just good to know we've been around for 35 years (laughs). We're just branding the 35th year so we're bringing back our retro line of merchandise going back to the original Shooters 21 shirt and logo. All the branding pieces that we're using are retro to Shooters, it has a retro design and feel. We're paying homage back to the beginning this year, and then we anticipate making some announcements during the week that will just continue to show growth for (2024).
I assume the Lake of the Ozarks Shootout is a source of pride for the community?
LM: They love it. I just went to the city hall last night in the city of Lake Ozarks, I heard 'We love the event, we love what it does for our businesses.' The mayor said, 'I personally love the event.' There's not really anyone here that doesn't know about the Shootout. They enjoy it and support it.
I think the one thing that people don't realize is that the money goes back. A lot of times with boating events and other events, it supports other organizations. That is the one message I just continue to say over and over again is: The money goes back to the community, the money goes back to the community.