American Ethanol wins a record ninth Lake of the Ozarks Shootout Top Gun crown.
By Gregg Mansfield / Photos by Jim Davis and Todd Taylor
For nearly a decade, it's been a foregone conclusion that American Ethanol was going to win the Top Gun title at the Lake of the Ozarks Shootout. The contest is usually a battle for second place, but in 2023 the speed gap for Top Gun got a little closer.
American Ethanol still won its ninth consecutive Top Gun with a 214-mph pass on their first run, but Myrick Coil and Rusty Williams running Slug Hefner's 438 Skater Dirty Duck surprised the crowd with a 194-mph pass. A 20-mph speed difference may not seem like a big deal, but the American Ethanol team took notice, especially after the 51 Mystic couldn't run anymore after breaking a blower belt on one of the 4,500-hp engines.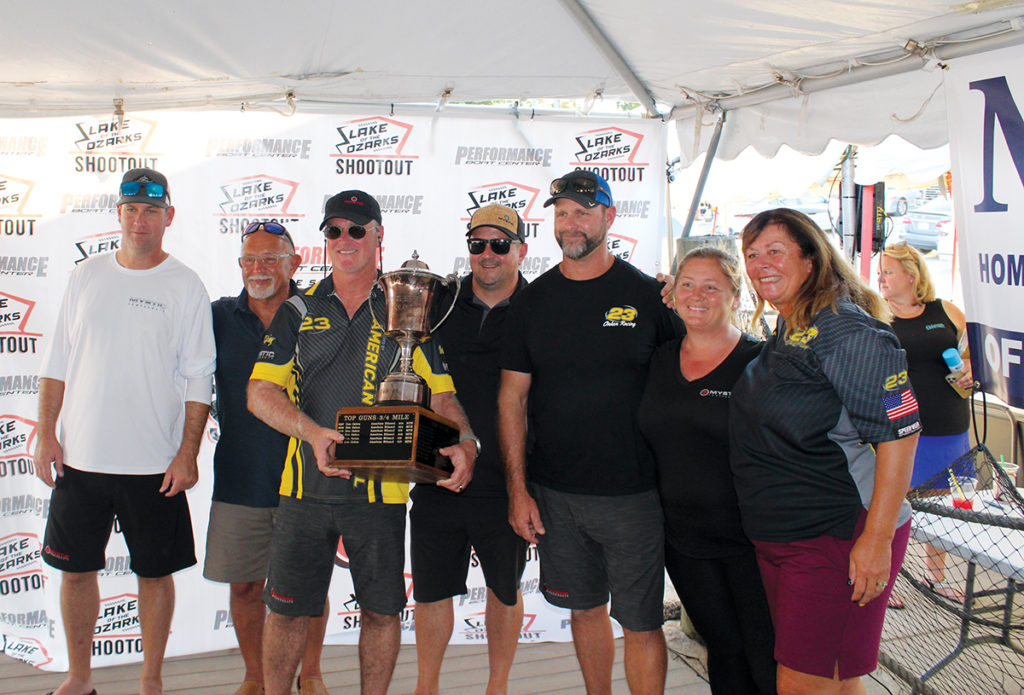 "Going into it, I didn't really know what we had because we had two different sets of engines in the boat," said Mystic Powerboats owner John Cosker, who throttled with Tony Battiato driving. "We had one set that we ran last year, and then we had another set that was brand new that (Don Onken) has been prototyping for a few years now. That was supposed to be our conservative run."
Coil said while they dreamed of winning Top Gun, they knew it was a longshot with the Skater and its twin Brummett 2,300-hp turbocharged engines compared to American Ethanol's 9,000-plus horsepower.
"American Ethanol is a veteran team and they've been doing it for a long time and put a lot of effort into it," Coil said. "For someone to beat them is going to be a huge, huge feat, but we're going to give it a try next year."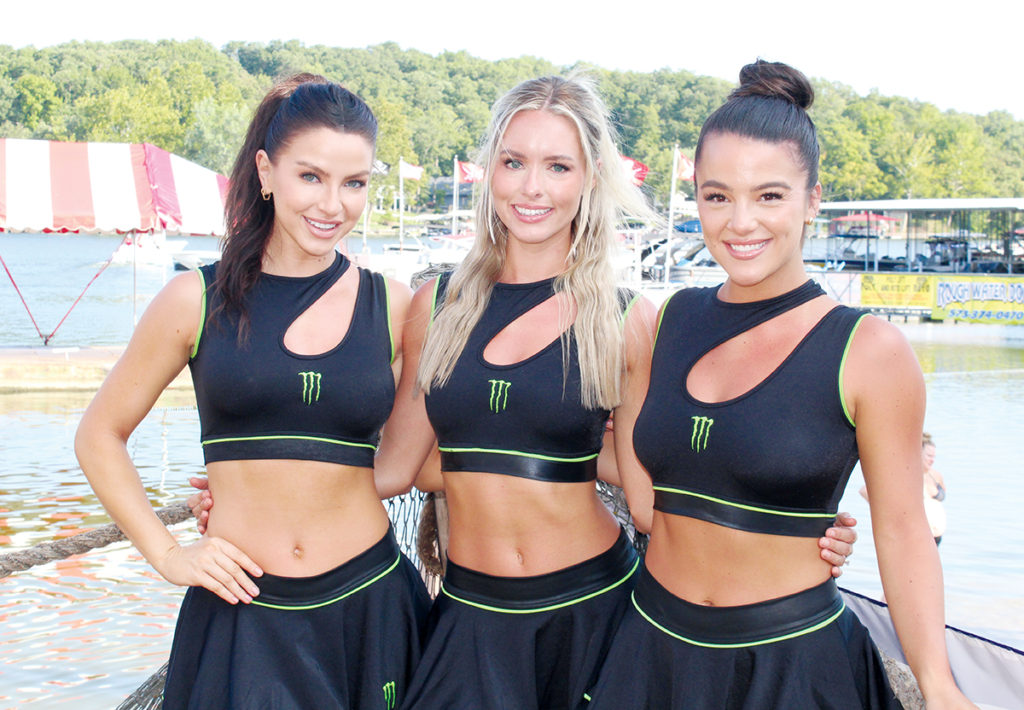 The annual August event on Lake of the Ozarks celebrated its 35th anniversary, far different from its days at the now-razed Shooters 21. With Captain Ron's Bar & Grill as the host, the Shootout has grown into a major event attracting more than 100,000 people to the Missouri lake for the weekend and should raise more than $600,000 for local charities.
In addition to the Shootout, organizers put on Shootout on the Strip Street Party, a poker run, charity auction and more. This year the group added a Sunday afternoon kilo run sanctioned by the American Power Boat Association/Union Internationale Motonautique.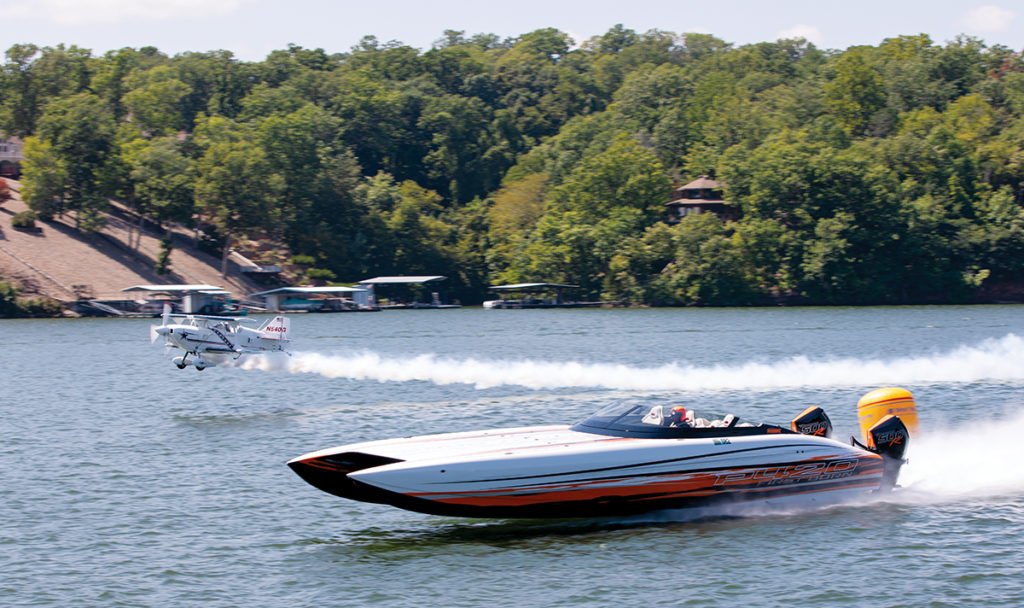 Powerboat P1 took over the television production this year, adding drones and a dockside reporter to enhance the coverage, which was streamed online and shown at most bars and restaurants around the lake.
With temperatures reaching 115 degrees on the heat index earlier in the week, Lake of the Ozarks board president Ron Duggan thanked the volunteers for persevering through the heat and humidity. He felt it was another successful event.
"The (hotel) rooms were all full, everybody was full," said Duggan, whose restaurant hosts the Shootout. "There's so much business that comes into town, and everybody is just thrilled with it. We just had a really great week.
The Shootout not only attracts the industry's top speed boats, it's an opportunity for boat manufacturers to showcase new models. Pontoons and electric-powered boats regularly break the 100-mph mark.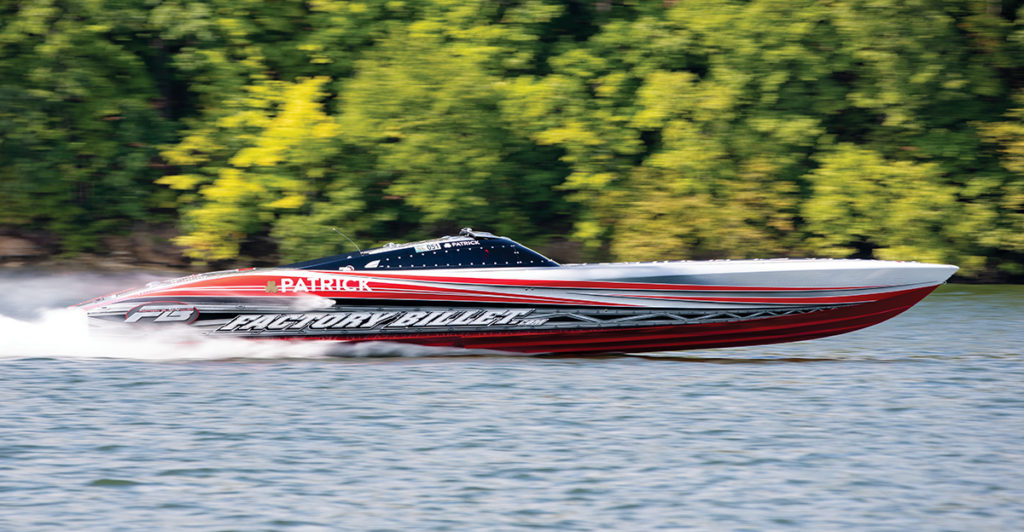 Even with a condensed schedule because of the kilo runs and intermittent rain on Saturday, it didn't dampen the number of speed runs. Spectators saw 252 passes on the 3/4-mile course, and heads likely turned when they watched the 51-foot V-bottom Factory Billet/Outerlimits run 184 mph. Yes, a V-bottom
"We honestly thought we were going to run probably low-, mid-170s because we've been fighting this problem with this waste gate actuators," said throttleman Mike Faucher, who ran with owner/driver Jim Schultz. "We never knew how bad the problem was because when we test the boat, we only get up to like 150 usually and then we go from there.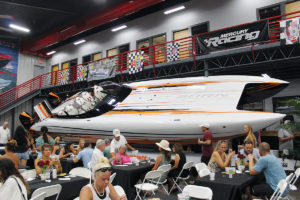 "It was just one of those things. Everything fell into place. I was screaming like 300 feet before the end because I already saw 178. I already knew it was rolling, it was coming."
Faucher said the canopied boat with twin 2,000-hp turbocharged engines was rerigged but has the original Mike Fiore-designed bottom.
"It's a true poker run boat," Faucher said. "The crazy part is to come here (to the Shootout), do that and literally knock the boost out of it and take it to Florida. That's pretty cool."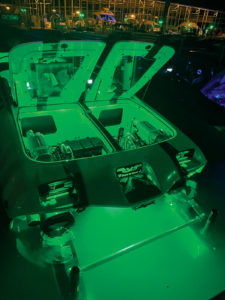 Home Sweet Home
A trend that started several years ago at the Lake of the Ozarks Shootout, manufacturers are renting out houses on the lake and hosting their customers for parties. Velocity Powerboats had the "Velocity House" near the finish line with its boats at the docks.
Being close to the 3/4-mile course, it allowed Velocity Powerboats' owner Scott McCormick and his customers to grab the early morning slots to run their boats in better conditions.
McCormick ran the company's new VR1 with a pair of Mercury Racing 450-hp outboards and got an impressive 107 mph from the V-bottom boat, upping it from his two previous passes of 106 mph, to win his class.
McCormick said the boat still had at least 7 mph left in it but the shipping company lost the 35" pitch cleaver propellers, so he had to run stock Bravo 32" pitch propellers.
"I came here thinking with this altitude and the prop selection that I had, I was like if I run 100, I'll be great," McCormick said. "I want to get a triple digit boat, get it out there. It's fun. I've got my guys here, my team, we rent the Velocity house every year, we had over 45 people there yesterday cheering for us.
"Everybody brings their boats, and they tie up and the kids swim. We have a great time, and they get to watch us go out there and set records."
Bob Spitulski added to the Velocity show by running his VR1 with a Mercury Racing 500EFI with a Bravo drive. His first pass was 84 mph before he upped it to 87 mph on his last two runs. He also won his class.
The Lake of the Ozarks has been a second home for Tony Chiarmonte, vice president of the sales for the Phoenix-based DCB Performance Marine. Earlier in the week he joined the 2023 Lake of the Ozarks Shootout Hall of Fame class, then on the weekend went out and ran a new M37R catamaran with Mercury Racing 500R outboards to 124 mph to win his class.
Back Again?
With the 2024 Lake of the Ozarks Shootout set for August 24-25, it's a good bet that American Ethanol will be back shooting for its 10th Top Gun title in a row. The team has become a fan favorite with attendees seeking it out on the docks at Captain Ron's.
"The fans are one of the reasons we come, otherwise we would probably do something else," said American Ethanol Mystic Race team owner Don Onken. "When they start getting unhappy with us winning, why then we'll find something else to do. But, right now, the fans have been great."