In the 2013 offshore powerboat racing season, Chris Schoenbohm found himself in a position that has been a familiar one for many participants in the sport.
His boat, a 32' Doug Wright catamaran, was at a competitive disadvantage because it had a narrower tunnel than others in the Superboat Stock class.
"I was getting out-accelerated and it came down to that fact that it wasn't a wide-body," Schoenbohm said. Unlike some racers who would try to get the race officials to make a rule change to slow down his competition, Schoenbohm took a more pro-active approach. He cut the boat in half and made his own wide-body.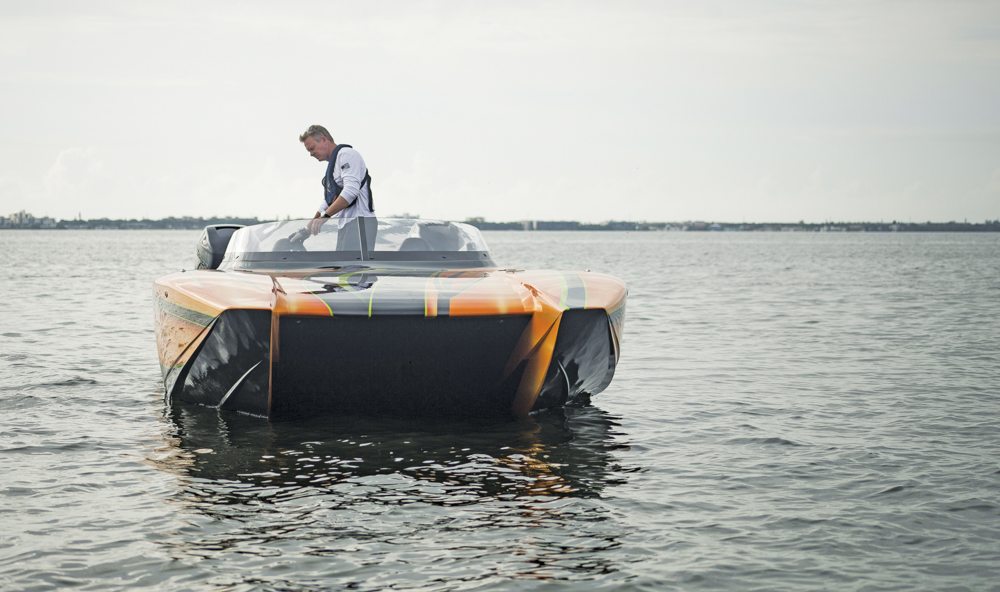 Multiple "experts" on online forums and message boards questioned the intelligence of Schoenbohm for cutting a perfectly good raceboat in half and widening it himself. Initial comparisons were made to offshore racer Thom Slamecka lengthening his Skater catamaran, Hyperactive, from 32' to 35' and breaking off the bow in its first race.
Undaunted, Schoenbohm took his altered boat to the 2013 Superboat International (SBI) national championships in Clearwater, Fla., and found the acceleration he was looking for. A little more than a month later, he and throttleman Gary Ballough went on to Key West, Fla., to win the world championships dominant fashion.
Prior to cutting the boat in half, he had already made changes to the bottom to get it to turn better. Buoyed by the improvements he had made to the handling, Schoenbohm decided to start building his own boats. The company name is Smart Marine Boats, or SMB for short, and its motto is "Fast, Present Future…TM" The boats are known as the Phoenix and are available in race or poker run configurations. Working with Smart Marine's naval architect Dustin Johnson, Schoenbohm made advancements on the hull's running surface, tunnel, and deck tooling to create an efficient hull capable of improving a variety of metrics including acceleration, top speed, handling, and safety.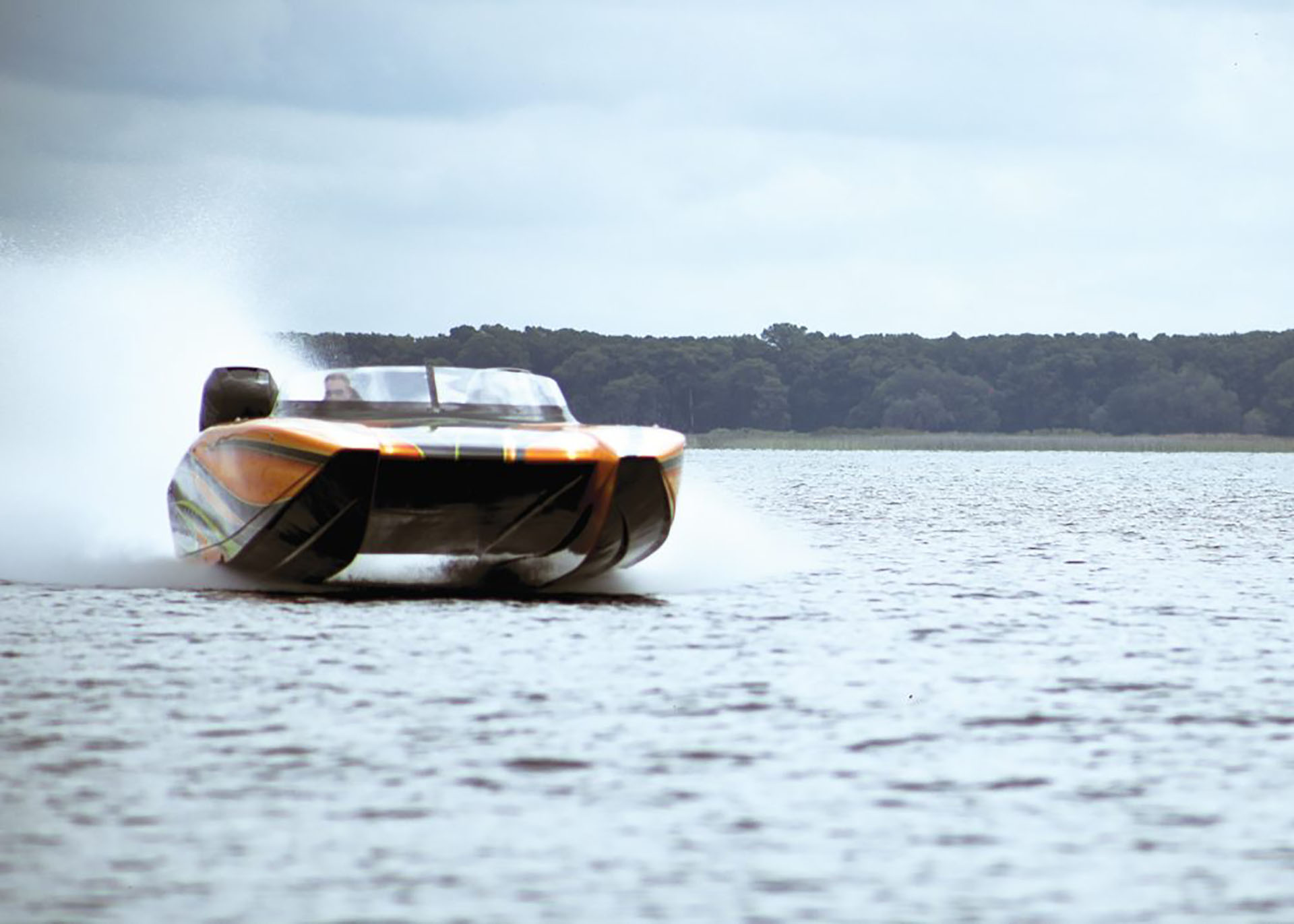 "I want a boat that performs better, not one that goes faster just because you put on a bigger motor," he said.
For those who know him, it's probably no surprise that Schoenbohm would cut a boat in half and then decide to start his own company. He grew up in the U.S. Virgin Islands sailing and racing Sunfish and Hobie Cats, in a variety of sizes and race series, since he was 8 years old. "I always had a passion for sailing and going fast," he said. In addition to sailboats, he ran a variety of powerboats for many years in myriad conditions.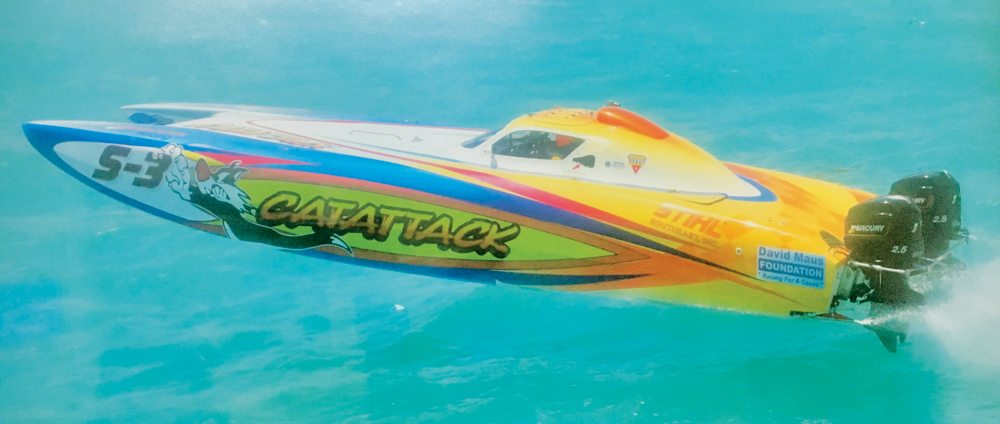 "I've been in some of the roughest waters in the world in boats under 30' long so that's where my passion for building stronger boats comes from," said Schoenbohm.
He started powerboat racing as a member of Todd Klindworth's Team Virgin crew that raced in two classes, Factory 2 with a Cigarette 36' Gladiator and Super Cat with a 39' MTI catamaran. Throttleman Tres Martin managed the team and Schoenbohm absorbed as much information as he could.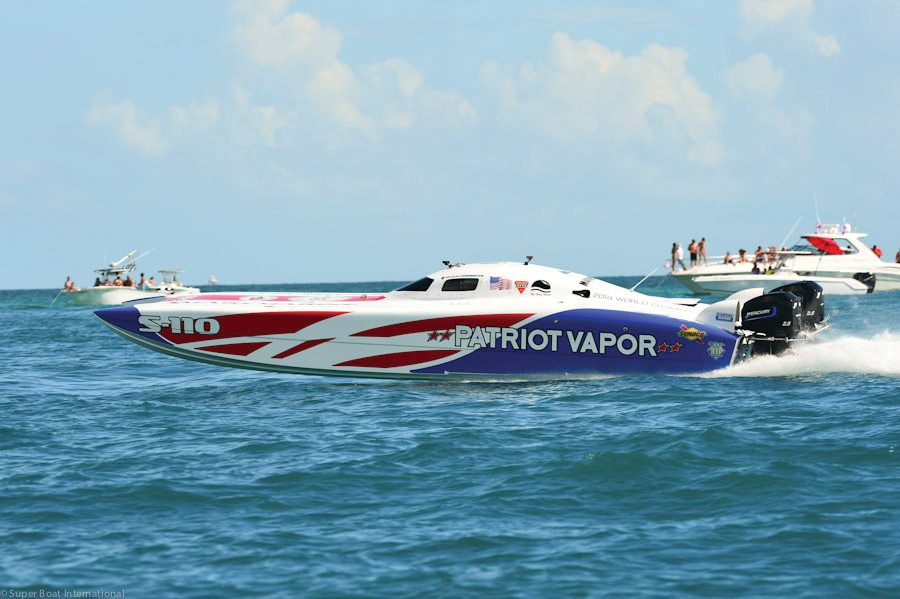 "I learned and watched and I really got the bug," said Schoenbohm. "I was able to go on rides and learn and see what they were doing to make performance happen." He's now passed along this bug to his oldest son Christian, 11, who's had the opportunity to drive along with his father.
The thoroughly hooked Schoenbohm bought his first offshore raceboat in 2003, purchasing the 30' Skater catamaran that had raced as Citre Shine. He renamed the boat Cat Attack and raced the boat with throttleman Tony Pandolfo through 2005. In 2007, he bought the only Doug Wright 30' design ever built and campaigned that hull until 2009.

At the end of 2011, he bought his 32' Doug Wright that he ran as SOS Venezuela, Smart Marine Racing, and as Patriot Vapor. That boat, featuring all the Phoenix prototypes, has since been converted to a pleasureboat.
"We're confident in the strength of our build," said Schoenbohm. "I'm banking on our engineering for the boats to be as strong as possible." The company has applied for patents for its unique manufacturing processes, the Phoenix hull including its running surfaces, and aesthetic design elements.
Schoenbohm said that Smart Marine has its build process streamlined to produce a complete hull and deck in six weeks due largely in part to the resin infusion process which also creates a stronger, lighter boat.
With the 32-footer in production, Schoenbohm said they're working on a new model. A timetable hasn't been established, but you can rest assured that he and his crew will attack the project with a passion for perfection. "I never thought I was going to be a boatbuilder," said Schoenbohm. "But I never turn my back to a challenge." No, he tackles them head on.