Contrary to popular belief, performance boating is not an exclusively male-dominated sport. Poker Runs America presents the first in a new series of feature articles dedicated to women in power.
By Michelle May Schmidt.  Originally appeared in Poker Runs America 3-1.
Hanging on the wall in an upstairs office of the Doller Offshore Marine complex is a newspaper story about Mindi Doller.  The very first word is "Bimbo." Mindi, rightfully so, is not particularly thrilled.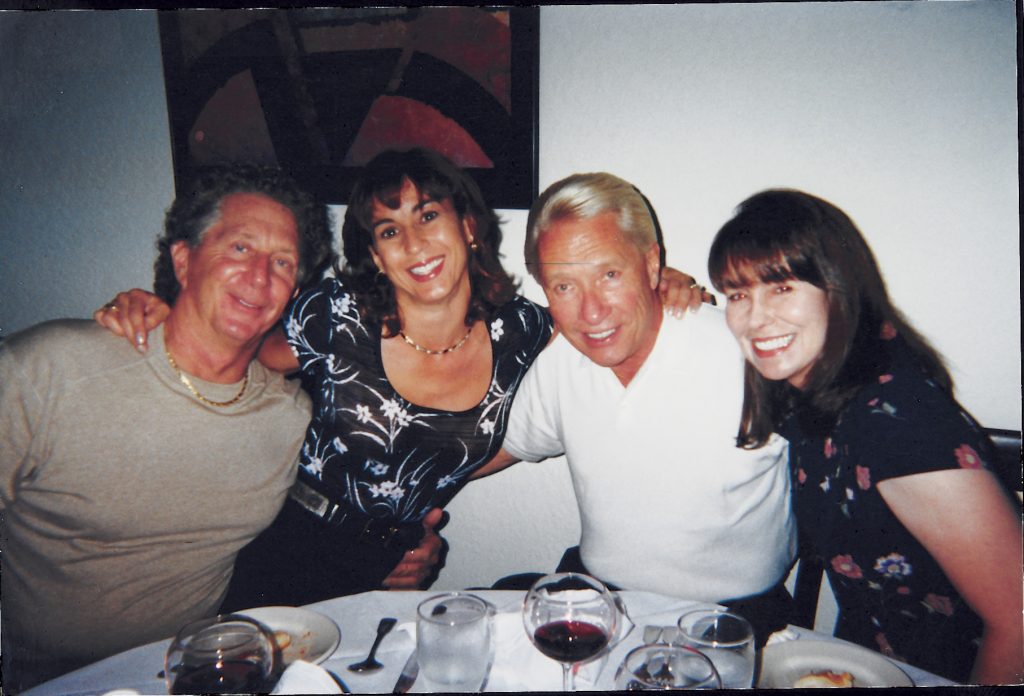 "It was a great article for the company, but I don't think it accurately portrayed me at all," she said.  Her Husband, Ron (photo above), the founder of Doller Offshore Marine, passed away last April after a battle he lost to cancer.  "When Ron died, I went from 'Mrs. Ron Doller' to 'Mindi Doller' virtually overnight."
Bimbo, a term liberally applied to many women associated with go-fast boating is far from what anyone should consider the level-headed president of the new Doller Offshore Marine to be.
Mindi met her husband-to-be, Ron, on a blind date suggested by mutual friends.  The term bimbo, incidentally, was taken from a reference to the location of their first date, which just happened to be Bimini Boat Yard, aka "Bimbo Boat Yard." The Friday night hot sport in Fort Lauderdale, located a few miles from Doller Offshore, boats the best of boats and, from certain accounts, women who fall into the bimbo category.  When Mindi was asked to meet there, she almost declined, as did Ron.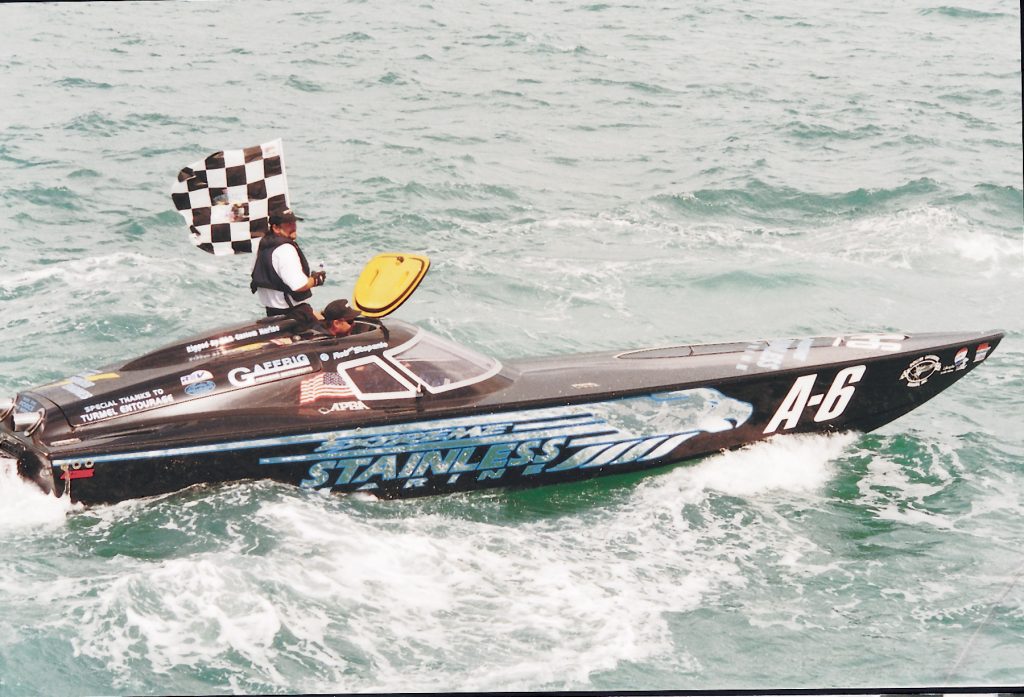 "After we met, we wanted to go someplace else more comfortable, so Ron suggested we take a water taxi over to Coconuts for dinner.  When we were about to leave, one of his customers pulled up in a performance boat and offered to give us a ride back.  It was the first time I had ever been on a boat like that and I was hooked… on Ron and boating."
"Sometimes I think about Ron and the tremendous stress he was under, but he didn't really want me to be involved with his business and I respected that.  Anyone who understood him knew he was too much of a 'macho guy' to let a woman be involved."
Instead, Mindi Doller built her own business – getting people in shape, first at the elite William's Island Club in Miami, then out of her home as a personal fitness trainer.  She still teaches spinning classes twice a week at the downtown gym, attacking her personal life with the same vigor she does her business.
"I just completed in a half marathon at Walt Disney World a few weeks ago and it was incredible," she said. "I ran 13.1 miles in 2 hours and 6 minutes and ended up in the top 20 percent.  I had a lot of fun."
That determination and energy was just what it took to whip the financially distraught Doller Offshore into the thriving marine powerhouse it is today.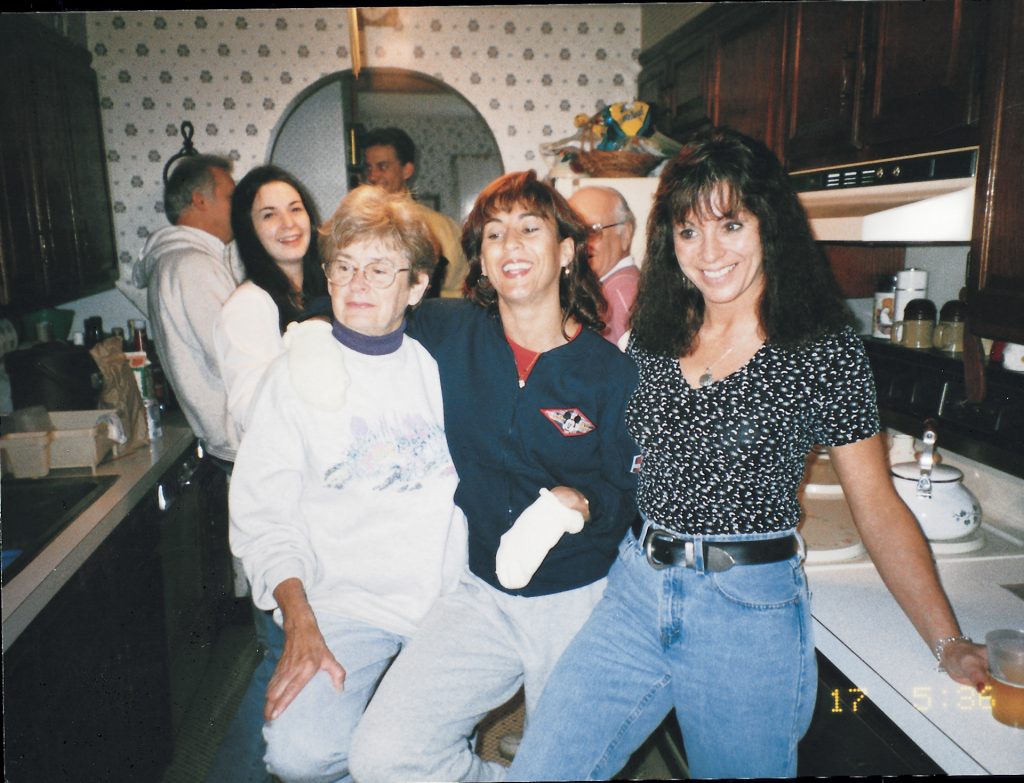 "Getting people in shape requires realistically knowing where you are starting from, and then positioning the program to where it works best for the people.  That is basically what I did with Doller Offshore.  When Ron passed away the first thing I did was ask our service manager, Mac Morris, to oversee the Drives and Parts Shop.  He is very good at what he does. And everybody else stayed and stuck it out.  They didn't bail out on me," said Doller, who has a refreshingly honest outlook on everything.
Ron and Mindi dated for five years and this New Year's Eve would have been their third anniversary.  Ron Doller was diagnosed with cancer in October of 1998, and stopped working to take care of him until he died in April of 1999.  She then listed the business for sale.
"I thought, what am I going to do?" admitted Mindi "I found out that one of the people who was looking to buy the company knew nothing about the boating business.  I didn't feel it would be fair to Ron to sell it to someone who didn't have a passion for boating, so I kept it.  I already had the best people, and we offered the best products, so against all odds, we went to work."
Many knew what Mindi Doller was up against, fewer knew where she came from.
Mindi Doller was born and raised in a little town called East Longmeadow, just outside Springfield, Massachusetts.  She lived there until she was twenty years old.  She owned a body shop with her boyfriend where "he did the body work and I did the tune-ups and oil changes, so I do know a little bit about equipment," she laughed.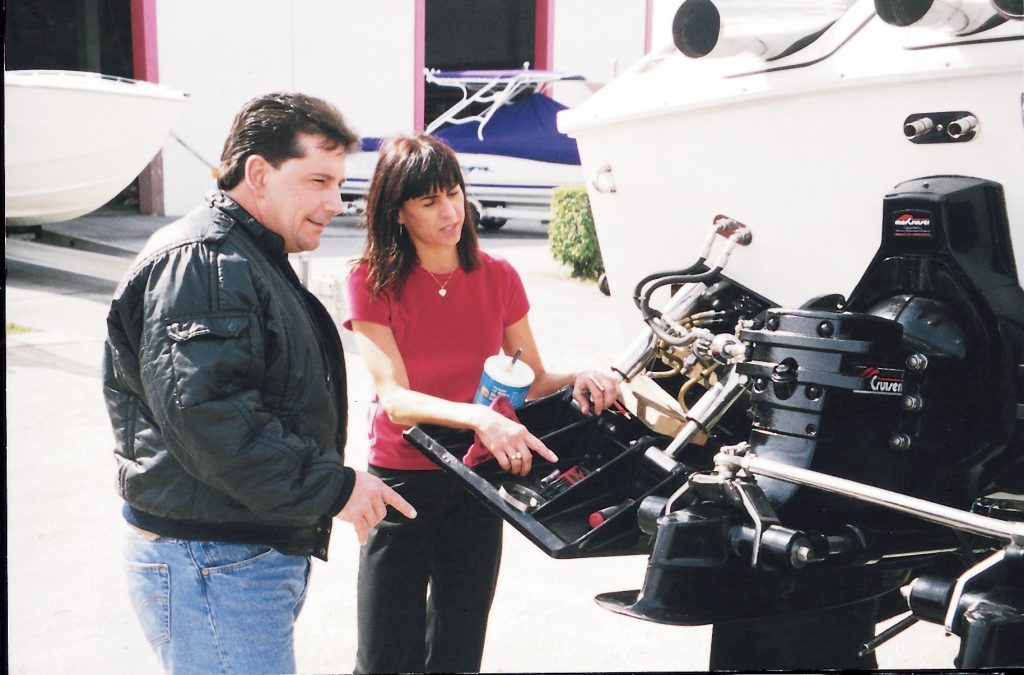 Mindi Doller has remained close with her family.   Her father passed away when she was 18, but bother her mom, Gloria, and Stepdad, Tex, encouraged her to keep the business.  The rest of the family, sisters Gale and Liz, their daughters Amber and Nicole, and her brother Wayne, followed suit.  Even Mindi's "child" – her dog named bear – went along with it, so it is easy to understand why she credits her strong family values for her success.
"I think that you have to be a real person.  Approachable. Up front and honest.  That's who I think I am, and that's the kind of people I try to surround myself with," she said.
Mindi brought her brother-in-law, Roger Hopper, in as operations manager. "He takes care of the downstairs," she explained, in reference to the main floor of the Doller Offshore Marine buildings.
"He has been a safety manager in the trucking industry, so he understands operations and has spent the last three months learning the technical aspects of our business.  In fact, continued training occurs here daily—for all of us. Most importantly, Roger has great people skills and you can't learn that."
Mindi stresses that, initially, a lot of people were hesitant to do business with her, for a variety of reasons. "First, no one wants to do business with any company that, they feel, may be going out of business and that has nothing to do with being a woman."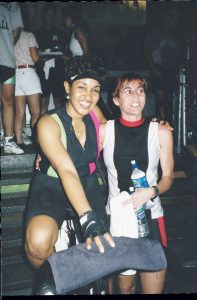 "Second, there were a lot of people waiting like vultures for Doller Offshore to fall, so they could pick apart the company at rock bottom prices.  Fortunately for me, I had a few friends and that's all I needed."
Mindi credits Bill Flynt, Sr. from Bill's Marine Parts as one of the few people who offered to help her.
"I can't tell you how much I appreciated that.  He educated me on the business of used parts, and his experience was invaluable to me.  Being a woman in this business can shut a few doors, or at least make them rusty. But it can make a few open easier too.  No matter the case, whether it was because I was a woman, because he believed in me, or a little of both…I really have to thank him."
Mindi proudly boasts of another achievement, where she pulled horsepower out of what was thought to be a dead engine.
"Ron had a broker's license and I didn't. When he died, the State of Florida came in and canceled our ability to sell boats, but they were willing to work with me and help find a solution.  Phil Lipshutz, a great friend of Ron's and owner of Lip Ship Marine, raced in to help.  As of two weeks ago, we opened a "Lip Ship Marine" branch office, so we can service and sell again, offering our customers even more benefits."
Lipshutz and Ron Doller shared not only a common interest in the marine industry, but also a passion for offshore powerboat racing.  This is also a sport that Mindi supports, both personally and from a business sponsorship level.
"My first offshore race was in Puerto Rico, in a little town called Mayaguez near San Juan.  The whole town turned out for the parade and it was just incredible seeing them all line the streets, in awe.  We need racing to be like that again."
Mindi says, back then, "there were only teams and helicopters. At the beginning of the race, you saw them leave the dock and for the finish, hopefully return.  Although there are mixed feelings from the races, now that they've brought the boats closer into shore, spectators are able to see the race.  From a marketing perspective, I agree with them."
Offshore racing, according to Mindi Doller, gave birth to high-performance pleasure boats and to poker runs. In keeping with that forward movement, she would like to see more promotion of safe boating, for the best interests of the promoters, the participants, and the industry itself.
"I think that Poker Runs America magazine has raised the standard for pleasure boating events.  I understand that they monitor their rules (no alcohol with the boats) and require safety products such as life jackets when on the water.
"And, like many offshore races, poker runs should hold more events for charity. The standard of acceptable behavior would be raised to a higher level and, along with it, the public's perception of the go-fast boater.  Build your image through marketing," she emphasizes, "and you have success… both on the water and off."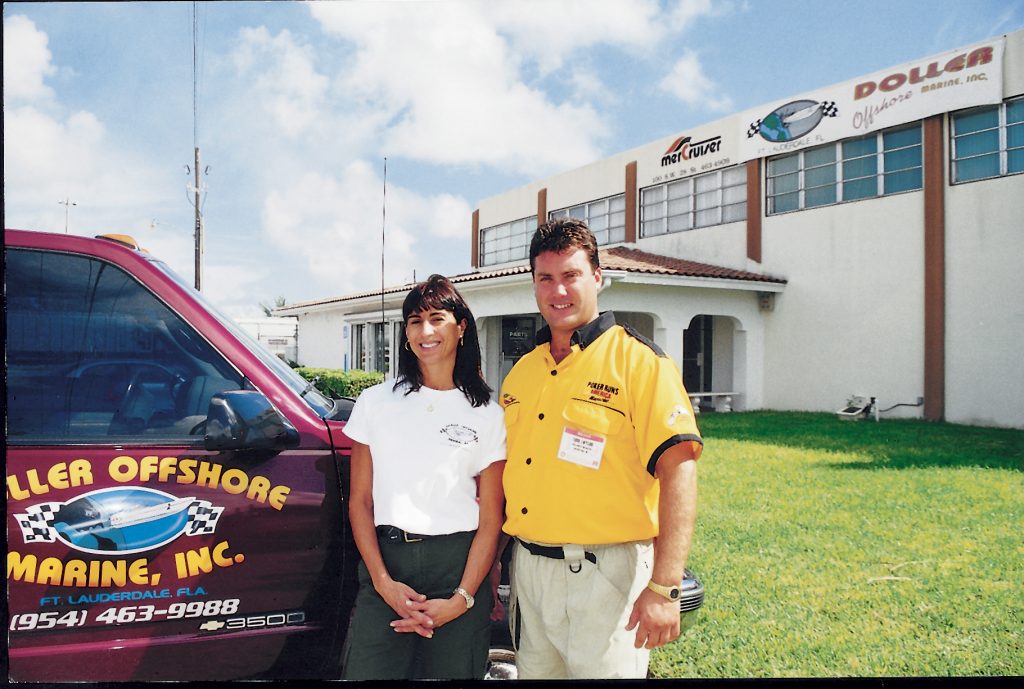 "Changing the image of a go-fast powerboat racer from a 'flamboyant, rich kid who partied a little too much' to the responsible boater we want projected today has not been an easy task," says Mindi. "Offshore racing groups like the APBA have worked very hard to change that image."
Mindi feels they have succeeded. "There is a lot more marketing, of both the events and the racers, so the public is becoming educated to the new image. I like that the APBA offshore events offer festivals and activities that involve the entire family.  Sure, there is a lot going on every weekend, but not for the entire family.  From a business perspective, I am able to reach a wider range of customer.  Those who do attend either already are, or will be, involved with boating someday. That's good for our industry."
Mindy proudly displays a picture of her race team, Extreme Stainless Marine, sponsored in part by Doller Offshore Marine, Blue Thunder Engines and Stainless Marine.  The team took the 1999 Superboat International World Championship Title in the Offshore A Class last November.
"Rob (Stopanio) and Rick (Turmel) are such great people.  They're just regular guys who want to promote the sport.  They're approachable, the average fan can go up and shake hands with them.  That's why I sponsor the team and the sport.  My company can get exposure on TV (TNN, ESPN2, Speedvision). I have real racers in uniforms, passing out my brochures. They shake hands, they get my name out there to the fans at the events.  That's what NASCAR does, why not copy it? That's smart marketing.  You don't have to be in the marine industry to want that."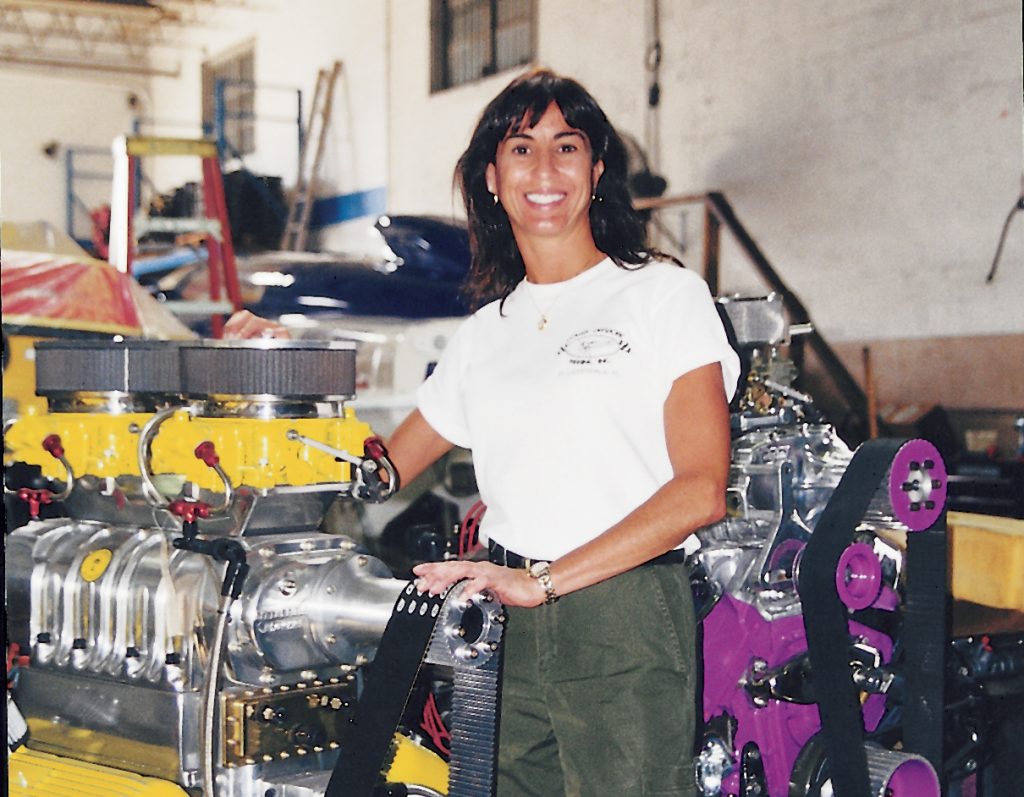 Marketing is what Mindi Doller feels has set her management style apart from the way the company used to be. "I kept many things the way Ron wanted them done, but I did add a few ideas of my own," she said.
To save money, she began to barter for advertisements and went after a different market, the average pleasure boater. "When Ron was here, the customer base was close to 90% high-performance boaters, mostly racers and poker run clients.  I needed to diversify, and quickly.  I repositioned our advertising to attract the average boater, and picked up another market base."
Mindi adds that her client base is now split equally between the two, giving her the company a new lease on life.  So, what is next for Mindi Doller?
A new ad, for starters, one that will appeal to her high-performance market, an ad she designed herself.
"This is for the Miami International Boat Show," she says proudly.  "My first show after Ron was gone was last October in Fort Lauderdale.  I was nervous and excited, but I knew I had to show them Doller Offshore was still around.  Now, in just four short months, I can show them we're stronger than ever."
"As long as Doller Offshore Marine is alive, so is Ron," she says mistily.  It seems that despite all odds, both the company and its president have secured a new lease on life.  As she picks up the phone to take a call, the first of many in her day, she shrugs. "Another day, another dollar," she muses.  For Mindi Doller, it's just another day at the shop.