While the 2015 Fort Lauderdale International Boat Show is still a few months off, Show Management, the producer of the event, has already announced a series of new attractions to further enhance the show experience for attendees and exhibitors. The show is scheduled from November 5 to 9 in several locations in the Fort Lauderdale, Florida, area.
"This is an exciting year for the Fort Lauderdale International Boat Show as we roll out enhancements designed to make this the best show ever for our exhibitors and attendees," said Brett Keating, vice president of consumer marketing for Show Management. "We're elevating the overall experience in many different ways, ranging from very attractive VIP packages to a Friday night Blue Party at the Convention Center especially for our valued exhibitors. Even before you arrive, you'll notice attractive new touches when you visit the new FLIBS website and see our new logo."
VIP Boat Show Experiences
Through a special partnership between Show Management and Quint Events, attendees can purchase the new VIP Boat Show Experiences program, which offers registered guests many added conveniences including valet parking, entry to the boat show and all-day access to the air-conditioned, VIP lounge located at the Hall of Fame Marina that includes gourmet food and a premium open bar. Access to a variety of private boat show events is also included.
(*One-day VIP Boat Show Experiences passes are $399 per person for Thursday, Friday or Saturday. Three-day passes are available for $1,099 per person.)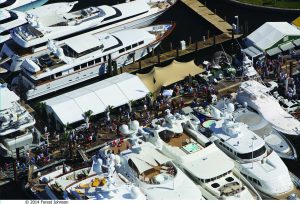 The Blue Party
On the second day of the event, Friday, November 6, the Greater Fort Lauderdale/Broward County Convention Center will glow blue for an exciting night specially planned for exhibitors that will highlight entertainment, music and fashion at the show's Sailfish Pavilion.
Raffle tickets and great prizes will benefit the Children's Diagnostic & Treatment Center, a non-profit organization that annually serves more than 11,000 children with special healthcare needs in Broward County.
The Convention Center will also feature an amazing display of boats under 50 feet and complimentary attractions for the whole family, including fishing and boating workshops by the IGFA School of Sportfishing, Hook The Future kids' fishing clinics, and marine seminars and an art exhibit by The Blue Wild. There also will be live water sport demonstrations at the AquaZone, a 15,000 gallon, 25-foot-by-50-foot pop-up pool.
The 56th Annual Fort Lauderdale Boat Show will take place at the Bahia Mar Fort Lauderdale Beach Hotel & Yachting Center, the Hall of Fame Marina, Las Olas Municipal Marina, Hilton Fort Lauderdale Marina, Sails Marina, Hyatt Regency Pier 66 Marina and the Greater Fort Lauderdale/Broward County Convention Center.
DATES:
Thursday, Nov. 5 (Prime Time Preview) 10 a.m. – 7 p.m.
Friday, Nov. 6: 10 a.m. – 7 p.m.
Saturday, Nov. 7: 10 a.m. – 7 p.m.
Sunday, Nov. 8: 10 a.m. – 7 p.m.
Monday, Nov. 9: 10 a.m. – 5 p.m.
TICKETS:
Adults: $25 online; $27 at show
Children (ages 6-15): $10 online; $12 at show
Children (under 6): Free
Prime Time Preview (Thursday, Nov. 5): $41 online; $43 at show
Two-Day Ticket: $43 online; $45 at show
For more information call (954) 764-7642 or (800)
940-7642, or visit www.showmanagement.com