Veteran teams knew they had to finish all three days of action to win at the 35th annual Superboat International offshore powerboat racing world championships.
Key West, Florida, the famed getaway that offers a lit-tle something for every kid on the block. It's Harley Davidson hog heaven with an aroma of smoking rubber wafting through the air during Bike Week. Pre-Halloween Fantasy Fest welcomes the free-spirited hippies and hedonists who left their Guy Harvey's and Guess dresses in the hotel closet, flamboy-antly painting their bodies as a daffodil or dragon. Then after 11 months of waiting it happens again—November comes around and, for one action-packed week, Key West goes high-octane as the powerboat racers, poker runners and fans old and new take over… and the island sanctuary explodes into offshore powerboat racing central.
This year the 35th Annual Key West World Championship and accompanying powerboat activities and festivities took place from November 8-15th and did not disappoint. Seven classes of offshore combatants punished the waves in a series of 12 races on Wednesday, Friday and Sunday. Traditionally, lap numbers and points are usually doubled on the last day, but due to sloppy seas and excessively windy conditions, laps were reduced on Sunday. Given the mere 24-hour timeframe between each marine contest, many a crew was faced with pulling all-nighters rotating between a Starbucks Doubleshot in one hand and a wrench in the other, repairing any and all attrition ailments.
LOOK WHO'S IN TOWN?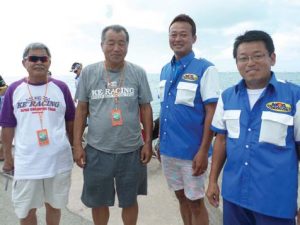 As the old saying goes, "only the best race Key West," and it was impressive to see the world-class racers answering roll call to compete for world championships. John Tomlinson and Gary Ballough had just landed from the Middle East days prior. They were in great spirits following their U.I.M. Class 1 win for the Abu Dhabi team which brought to a halt the Victory team's eight-year winning streak. Marine Technology Inc, president Randy Scism proud became the first builder in 12 years to take the title away from Dubai's Victory, for whom he used to race. Scism also hit the Key West waterways in the Superboat Unlimited class, throttling for owner and pilot Bob Bull in CMS 3.
Tomlinson and Ballough took to the teal waters where the Atlantic Ocean and Gulf of Mexico merge in their respective cockpits. Tomlinson joined Jeff Harris in the 48' MTI CMS 03 in Superboat Unlimited while and Ballough multi-tasked in his own 32' Doug Wright, Frank & Jimmie's Propeller with driver Jimmie Harrison in Superboat Stock class and in Superboat's Maritimo alongside Australian racer, Ross Willaton.
Another superstar combo shared the cockpit in the factory-sponsored 40' Outerlimits. Owner/driver Joe Sgro and throttleman Steve Curtis, campaigned the multi-stepped V-bottom against a pair of Fountains in the Superboat Extreme class. "This year we are really here to assess the competition," said Sgro. "Our goal is to keep the boat together and hopefully survive.
AND THE WINNERS ARE…
A spinout, speed breakouts and engine gremlins all played partial roles in deter-mining position standings for the Production-3 and Production-4 bat-tles on the first day of racing. In P-3, the 38' Fountain, The Developer, and the 36' Spectre, 2nd Amendment, were plagued with engine issues during the first day's calm conditions. This was followed by 12 breakouts from The Developer and 2nd Amendment that would double that to 24 on Day Two. Back with a score to settle for the Sunday finale, Neil Wobbe and Karl Steger gunned down first position and the victory in 2nd Amendment.
On Wednesday, in P-4 Two Cruel and Christie Photography entertained the crowds with a deck-to-deck duel until Christie Photography spun out and ejected owner/throttleman Bob Christie. Crazy Chicken would end up ruling the roost after it had been determined that Two Cruel broke out of the class's speed bracket. Two more checkered flags added up to 1,000 victory points and top honors were awarded to the 2014 defending champions Crazy Chicken.
Superboat Vee class lost Boatfloater.com at the start of Wednesday's 12:30 scuffle when Hooters/ Instigator ran right over the top of the boat. LSB Racing and Phantom would go on to each take a first, but it would be Sun Print holding the checkered flag and trophy at the awards celebration.
RESULTS
SUPERBOAT UNLIMITED
CMS 3 – World Champion
CMS 03
Lucas Oil Silverhook
SUPERBOAT
WHM Motorsports – World Champion
Cleveland Construction
Team Amsoil
SUPERBOAT EXTREME
Hooters Instigator – World Champion
Coopers Standard
Outerlimits
SUPERBOAT VEE
Sun Print – World Champion
Phantom
LSB Lilly Sport Boats
SUPERBOAT STOCK
Talbot Excavating – World Champion
Smart Marine
BBR Blake Brothers
MANUFACTURER PROD 3
2nd Amendment – World Champion
The Developer
Chris Gone Wilder
MANUFACTURER PROD 4
Crazy Chicken – World Champion
Two Cruel
No Vacancy
On to Superboat Stock, Talbot Excavating and Patriot Vapor/Smart Marine dominated the show as the four Doug Wrights and one Skater whined through their seven laps. Thankful for a first on Wednesday and then two seconds, Talbot Excavating's Kyle Talbot and Jay Muller arrived in victory lane with an average speed of 80.88 mph.
When the sport's premier classes took the stage, adrenaline shot through everyone's veins as Superboat Extreme's Hooters/Instigator and Cooper Standard/Twisted Metal Motorsports gave the folks what they came to town to see. First, in Friday's side-by-side mêlée, they were side by side, until a coil bracket fell into Copper Standard's bilge forcing the Fountain off the course. A $15 replacement was all it took for Florida racing partners Billy Glueck and Brett Lee Furshman to impress their new sponsor Cooper Standard when they ran away with the victory on Sunday.
But that didn't stop the Hooters/Instigator duo of owner/throttleman Peter Meyer and driver Johnny Stanch from garnering overall first place accolades. The two veterans have seven world championships to their credit.
In the Superboat Unlimited class, Bob Bull's fleet of sleek orange MTIs controlled the class. It was mesmerizing to watch sister ships CMS 3 and CMS 03 work the liquid track as if effortlessly gliding on ice. Owner/driver Bob Bull and throttelman Randy Scism cap-tured the crown in the 52' CMS 3, leaving the silver for John Tomlinson and Jeff Harris in the 48' CMS 03.
Powered by twin Mercury Racing 1650 engines and M8 drives, CMS 3 collected the Top-Flight Award for being the fastest race-boat, clocking in at 108.13 mph.
Kudos go out to two Superboat Unlimited teams- Lucas Oil Silverhook for being the only V-hull to race against the cats and to Miss GEICO for its determination. After blowing the port engine on Wednesday and the starboard on Friday, throttleman Scotty Begovich and drive Marc Granet resiliently battled on Sunday.
For the 12th and final race of the week, Superboat class welcomed nine catamarans. At the start of the race, onlookers gasped as the 38' Skater, HP Mafia, fatefully flipped in the same turn where the boat had crashed four years earlier, claiming the life of popular offshore racer Joey Gratton. Fortunately the Michigan father and son in the boat in 2015 escaped with minor injuries.
After their quiet, consistent end to the 2015 season in the 38' Skater, Cleveland Construction, Ed Smith and Keith Holmes snuck up on the Superboat fleet in Key West, completing the course in 30 minutes 38 seconds on Sunday. The 40' Skater, WHM Motorsports, would have something to say about the final results. Owner/driver Billy Mauff and throttleman Jay Muller had finished second on Wednesday and first on Friday and they slammed through the junky afternoon water behind Cleveland Construction, to maintain third place, which was good enough for WHM to claim the 2015 World Championship in Superboat class.
THEY COME FROM NEAR AND FAR
From the Midwest to the Far East, offshore powerboat racing devotees made it to Key West. I met the Chairman of the Japan Powerboat Association, Matsuhisa Kojima, who has been attending since 1998. He was vacationing with his colleague, Iwamoto Kenichi of the Japan Powerboat Racing team, and both expressed through their interpreter how much they love the environment in Key West.
At the table next to the fans from the Land of the Rising Sun sat Reggie Fountain as he watched boats he built dominate in Superboat Extreme. "We worked hard from the beginning to make Fountains fast," he said. "It was always our goal."
Fountain continued, "During the time I owned Fountain from 1979 to 2009; we sold 10,000 boats and made over a billion dollars in sales. A great majority of all that money went to make raceboats fast. Then we helped our customers set them up like they should be. Those boats on the course are eight years old and running away from the newest hardware out there."
As the week drew to a close, conversations changed gears and centered on the 2016 Miami International Boat Show, upcoming poker runs and the start of the SBI season. Thanks to the partnership among Super Boat International, STIHL and JM Associates, NBC Sports will be producing three hours of race programming set to air in February. Keep an eye out for specific dates and times at www.superboat.com.