With the new outboard powered 340X catamaran, Marine Technology Inc., has built a boat that makes it easy to go performance boating.
By Eric Colby.
The first thing that somebody thinks when he or she sees a high-performance catamaran that runs close to 120 mph probably isn't that it looks easy to go fast in this boat.
With the new Marine Technology Inc. (www.marinetechnologyinc.com) 340X catamaran powered by twin Mercury Racing Verado 400R outboards, that's exactly what people are saying after they take a ride in the boat.
"Our customers want a boat that rides really well in the bumps and they like the 340X because it's so user friendly and low maintenance," said Tim Gallagher, sales and marketing manager at MTI. "It makes performance boating easier,"
In a perfect illustration of how easy the boat is to run, when company president Randy Scism takes out the 340X, he brings his 18-year-old daughter and has her drive. When Gallagher takes the boat for a spin, he puts his wife behind the wheel.
The first 340X is a red, black and white stunner that runs around 119 mph depending on the load with the twin 400-hp Mercury Racing outboards with Sportmaster gearcases and 15 14/" x 33" pitch Mercury Racing cleaver propellers. Gallagher said the second, third and fourth models are all out of lamination and being finished at the company's Wentzville, Mo., factory.
The size and the price (around $400,000) put the boat within reach of a wide range of customers. "It could be a billionaire who wants another nice toy or it could be a be a guy who has a nice job and will finance it," explained Gallagher. "They both want an easy-to-use boat with no maintenance problems."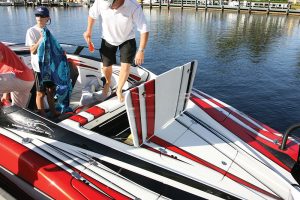 At 34' long with a 10' beam, the 340X is the biggest of the new generation of catamarans that have been introduced since the Verado 400Rs came out. It seats six people in two buckets up front and four equally comfortable seats across the stern. The cockpit is protected by a full wraparound windshield. What might seem a little unusual is the absence of any conventional gauges Instead, the dash has a Mercury Racing Vessel View 702 screen and a Garmin 8617 GPS chartplotter tied into the NMEA network. MTI offers a range of plotters from the 7612 up to the 8617. Mercury's Digital Throttle & Shift (DTS) caps off the ease of operation theme. The controls are located between the seats and the boat can be built with a port or starboard helm.
Something that most people won't expect is the large storage compartment that's within reach from the rear seat. Open the hatch and there's a 45-quart Yeti cooler and holders for four fenders plus space for additional gear.
MTI builds the boat with the same processes and materials as its larger catamarans. A customer can choose an epoxy and E-glass layup or carbon fiber. The boat is infused and cored with closed-cell foam in varying densities and thicknesses.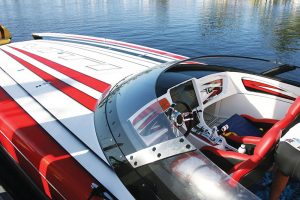 Showing some smart forethought, MTI designed the 340X's mold with some adjustments that can be made so the boat can be built for the way a given client wants to run. One customer has asked for a quote with Seven Marine engines, which are much heavier than the 400Rs, so the hull would be adjusted to get the boat's center of gravity properly positioned.
For further fine-tuning, the motors are installed on adjustable setback brackets. The 340X is not available with stern drives, but MTI makes a 36-footer that is built with them.
At 6,000 pounds, the MTI 340X is most definitely built for efficiency, but it's not meant to be a lightweight temperamental boat that can't run in anything more than a 3" chop. "We built it to be a good handling boat," said Gallagher. "It's not a flighty little potato chip that will get you in trouble." Instead, it's a boat that makes it easy and safe to run 100 mph.