Its pedigree is beyond repute. The Eliminator Daytonas are arguably one of the most all-encompassing and successful high performance pleasure boat line in the history of the boating industry.  Too bold a statement?  Check the facts.
Initially introduced in the mid-1970s, the 19' Daytona became the first air entrapment production hull to break the 100-mph barrier for unblown gas jets (quarter mile drags) and Mod VP outboards (single V-6). And, when MerCruiser made the switch from the GM 502 c.i. to the newer style 496 c.i. V-8 block as its top production sterndrive motor package, it was an Eliminator 30' Daytona that stepped up to the plate and became the first stock twin engine (496 HOs) MerCruiser powered hull to break the 100 mph mark. Not to be outdone, about that same time Powerboat Magazine tested a 25' Daytona with supercharged power at its annual 100 mph "shoot-out" at the Parker Strip on the Colorado River, recording the first over-140 mph pass for a single engine pleasure boat. And in case somebody hasn't heard, the Eliminator's 33' Daytona won 'top gun' honors at both the famed Lake of the Ozarks and Desert Storm Shoot-Outs in recent years thanks to Greg Olson and his amazing 192 mph record run.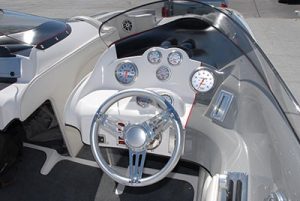 In 2007 – 2008, Eliminator added the 27 Daytona model to its family, shortly followed by a 27 Daytona open bow option, then a noticeably sleeker 'Speedster' version, incorporating a new wrap-around cockpit windshield, which replaced the heretofore traditional ICC (Integrated Cockpit Canopy) style of wind deflection on previous 27 models. Eliminator also initiated one more permutation of the popular 27 Daytona in late 2011 – hence the debut of the 27 Daytona "walk-off," a hybrid of sorts that blurs the line between an air-entrapment tunnel bowrider sportboat and a high performance deckboat.
Rather than create an entirely new deck mold for the "walk-off" model, Eliminator designed a separate insert for the existing mold, which cleverly changes not only the look, but the functionality of the 27 Daytona. Instead of having a conventional fully sculptured bow that requires passengers to climb over or step-on the nose in order to access the bowrider compartment from the beach, the "walk-off" model has a lowered and flattened forward surface (with molded non-skid texture) making boarding and debarking as easy as a deckboat or even a pontoon – a great idea for those who like to spend a day on a quiet beach or a well protected sand bar.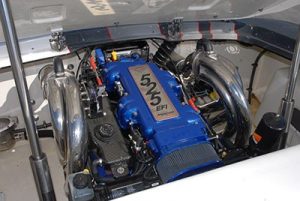 Our test model 27 Daytona "walk-off" was powered by a single Mercury Racing 525 EFI package with a Bravo XR drive. According to Eliminator, this is the most common power choice for this particular model, although engine options with considerably more or less horsepower are also available. Set-up dictated a 1.5:1 standard gear ratio for the drive unit and a stock 28 pitch Bravo 1 (stainless steel four-blade) propeller (not lab finished).
It was evident, even from a distance, that Eliminator hasn't lost its touch when it comes to exterior graphics and gelcoat finish. The mold work remains at the top of the food chain, which has been a signature feature of Eliminator. It's one thing to take a blank, all-white canvas and paint it with custom colors, but when it's done in the mold, with gelcoat, it elevates the entire hull to a new level of exotic. Over the years, Eliminator has always been at the head of the class, employing many of the most talented and experienced gelcoat artists in the business, and this 27 Daytona "walk-off" model is a good example of what nearly 45 years in the boat business has taught them.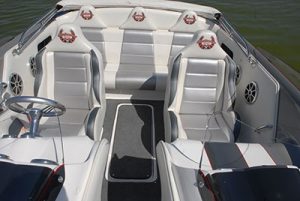 Eliminator has a simple business philosophy. They do it in-house; lamination, rigging, motor install, upholstery, electrical, and final run-off before delivery to the customer. No out-sourcing here. The hulls are still one-hundred percent hand laminated using only the best quality vinyl ester resins, and strategic balsa core reinforcement materials are liberally used throughout. As might be expected, the 27 Daytona "walk-off" is fitted with a one-piece fiberglass inner-liner sole. If you appreciate attention to detail, you'll love the way Eliminator has integrated various pieces of necessary deck hardware (engine compartment vents, deck cleats, fuel fill, etc.) into the sculptured contours of the hull and deck. It's what sets a genuine custom built boat apart from one that is not.
The 27 Daytona "walk-off" does present, however, a potential dilemma for some buyers, especially those who may have their hearts (and minds) set on owning a pure deckboat. Because of the new "walk-off" insert, the 27 Daytona open bow seriously rivals Eliminator's 28' and 30' Fun Deck models. Not only does the 27 "walk-off" have nearly the seating capacity of the Fun Decks, it also has equal or possibly more available storage space thanks to the large compartments located under the two bulkheads