Mercury MerCruiser has once again upped its power prowess with its new 6.2L V8 300 hp and 350 hp sterndrive engines, which were officially announced at its media event in Charlotte, North Carolina, this past week (July 20-22).
"With the introduction of our new 6.2L V8 sterndrive engines, Mercury continues to build on its success of designing and manufacturing propulsion systems that deliver the most intuitive, powerful, worry-free, smooth and quiet boating experience," said John Pfeifer, president of Mercury Marine. "Like the purpose-built 4.5L V6 sterndrives we introduced a year ago, we're extremely proud of the remarkable reliability and ease of maintenance delivered by the 6.2."
The 6.2L platform – like the recently introduced MerCruiser 4.5L V-6 platform for 200 hp and 250 hp engines – was designed specifically for marine use – rather than adapting and marinizing an automotive engine – and the end result is an optimum balance of power, easy maintenance, superior corrosion-resistance and a quiet, pleasurable ride, says the company.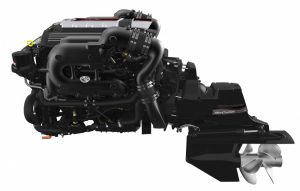 With many new features, the 6.2L incorporates a long runner scrolled intake manifold to optimize air flow for higher torque, translating into greater acceleration and improved boat performance, while its high displacement produces an outstanding power-to-weight ratio for faster planing, improved rough water handling, and the ability stay on plane at lower speeds.
It also highlights the company's Adaptive Speed Control (ASC) system that automatically maintains a set rpm point regardless of load or condition changes (such as tight turns, tow-sport activities and lower speeds on plane) that result in increased throttle response.
Other new features include an air-intake resonator to suppress harsh sound frequencies throughout the engine operation range for a dramatically quieter and more pleasurable experience plus an aft-facing throttle body designed to direct noise away from the cockpit. Additionally, it sports larger and optimized engine mounts to isolate engine vibration and reduce resonant vibration sounds.
Options available for the 6.2L include the Axius Joystick Piloting system, freshwater cooling and the company's SeaCore drive corrosion protection treatment. The 6.2L and 350 hp engines are part of Mercury's current Power of Protection Sales Event that offers five years of coverage, two years of Mercury Limited Warranty, and three years of Mercury Extended Service. It also comes with a three-year anti-corrosion warranty.
For all the details visit www.mercurymarine.com