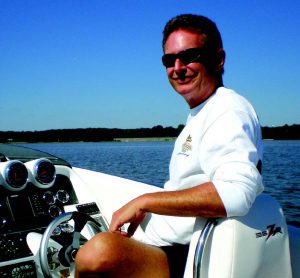 Brian DeMaris loves poker runs and he estimates that he goes out on his 2008 Donzi 35ZR at least every other day dur-ing the season. But he's not a speed freak. "That's the fun part of who I am," said the 62-year-old from North East, Md. "If we're on a poker run and we're doing 50 mph we're happy."
The "we" is DeMaris and his girlfriend Julie Elliott whom DeMaris says, "Keeps me straight" presumably in life and during the poker runs.
About his boat, DeMaris said, "I can't brag enough about it." He bought the 35ZR new in 2008 and it's powered by a pair of 425-hp MerCruiser 496 MAG HO Bravo Ones. DeMaris has put 1,267 hours on it as of mid-May. He credits Ed Trainer at Anchor Boats in North East for keeping the engines running smoothly.
DeMaris started boating in a 9' GW Invader. He entered his first poker run in 2004 in a 23' Baja 232 Islander bowrider. When he decided to get into an offshore boat, he said, "I wanted two motors and I just kept looking at the Donzi. Once I looked at the dash with the big monster gauges, it was like dream come true."
He lives close to the starting point for the Rock the Bay Poker Run and enjoys that event. Locally, he will run in Chesapeake Thunder in the City and Thunder on the Bay in 2016, but he also travels for one special trip and this year that will be the 1000 Islands Poker Run.
He supports his boating habit as an entrepreneur and is a fabricator by trade, making "any-thing out of steel, aluminum." One of his ventures is Balazs Boxing, a company that makes a full line of boxing equipment for companies such as Everlast, Title and fitness clubs. Some of his celebrity clients include actor/rapper Will Smith and singer/musician Bruce Springsteen.
His success has given DeMaris what he wanted most when he decided to live on the water. "I wanted to wake up in the morning, roll over and look out and see the water and my boat," said DeMaris, which by the way, is French for "From the sea." Seems appropriate.
---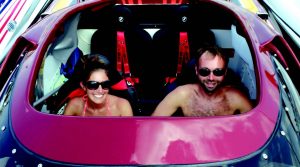 Kevin and Kristy Kaczan take their performance fun seriously. The owners of a trucking company, they pretty much take the summer off and live on their 40' express cruiser, enjoying the waters of the Great Lakes. They have a Youtube channel called Never Travel Back that they regularly update with videos of their high-speed exploits.
The Kaczans have owned a number of boats and personal watercraft. Their first offshore boat was arguably the fastest Baja 33' Outlaw ever built. It was a poker run edition powered by twin Mercury Racing HP500EFIs with ProCharger superchargers and IMCO Extreme drives and ran just shy of 100 mph. When they decided to upgrade, they did so in a big way, purchasing one of three canopied Cigarette 36' Gladiators ever built. The 2003 model had already been reconfigured from a raceboat to a pleasure model and had the top of the canopy cut off, but the couple completely re-did the graphics, updating it to its current look.
Kevin throttles and Kristy drives the twin-stepped V-bottom that is powered by twin 715-hp naturally aspirated 572-cubic-inch engines and Mercury Racing SSMV drives. "Kristy is a natural at driving fast, boats, jet skis, dirt bikes, sports cars so it works out perfectly that one of us drives and one throttles," said Kevin. The boat runs in "the one-teens," according to Kevin. "It's boring at 100 mph," he said. Regarding the sit-down operating position, he continued, "I'll never do a standup again. It's like trying to run a Corvette around a road course standing up."
The couple has been going to poker runs for five years. They started in the Baja and this year they will take Unleashed to the Boyne Thunder Poker Run, the Poker Runs America VIP event in Sault Ste. Marie, the Lake of the Ozarks Shootout and assorted fun runs. One of the reasons the Kaczans don't leave their home area is that the waters of Lake Michigan and Grand Traverse West Bay are so clean. Their marriage even took place in a popular anchoring spot in the bay called Power Island.
---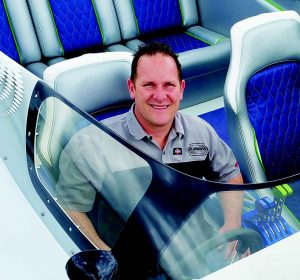 For Doug Slingsby, participating in poker runs and other events is a great way to promote his company, Slinger Motorsports, a performance-boat dealership based in Cookstown, Ontario, that specializes in restoring Spectre catamarans. "They're the best bang for your buck," said the 49-year-old about the Spectres. "They're a lot of fun to drive. If there's a deal on one, we'll pick it up, clean it up and use it."
He prefers the outboard-powered 30' Spectre and currently has a 2005 model that he ran in many Canadian events last year. It's powered by twin Mercury Racing 300 XS outboards. If he doesn't run his own boat, he goes with a customer, Kevin Zewelinski, who bought a 30' Spectre from Slinger Motorsports. Slingsby's company works on other brands as well and recently the company did a restoration on the famous Skater 36' raceboat that was formerly known as Liquid Metal. It had already been changed from a raceboat to a pleasure model and Slinger Motorsports updated it.
Slingsby has been participating in poker runs since 1999 when he started with a friend who had a Hustler 388 Slingshot. "A lot of times I end up going with a customer," he said. This helps introduce new boaters to the events and that helps everyone involved.
He plans to participate in as many of the Canadian events as possible in 2016 and says the 1000 Islands Poker Run is his favorite. One of the things he likes most about poker runs is the mix of camaraderie and "a little bit of competition." While some people shy away from running in a pack, Slingsby likes being around other boats when they're all running fast.
In addition to poker running, he has also raced offshore. His biggest accomplishment on the liquid racetrack came when he teamed up with Rick Felsen in his 32' Skater, High Risk, that ran in the triple-outboard Pro-Stock class.
The duo finished third at the biggest race in the sport, the annual three-race world champion
ships in Key West.
---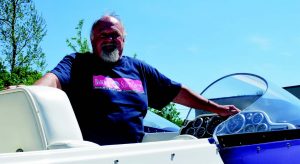 Bob Babcock is a straightforward guy. When asked what he likes about poker runs, he answered simply, "I like to have fun and go fast in a boat." It certainly isn't the card playing because he's been poker running since 2002 and said, "I haven't won a thing. I'm there for fun, seeing my friends, having a good party."
He owns a few boats including a 32' Century and a 46' Black Thunder V-bottom, but his latest toy is a 2002 Eliminator 36 Daytona catamaran with a pair of motors that Babcock built. They are naturally aspirated 598-cid engines making about 800 hp and they put their power to the water through Mercury Racing Dry Sump Six drives.
"I haven't had it wide open," Babcock explained. "After two years, I keep changing props, changing this, that, shortening the drives." He recently added a tunnel tab. "I'm in the right speed range for the power I have. I just need to get the boat to handle right."
Babcock has a good resource to turn to for input on fine-tuning his boat. Eliminator Boats president Bob Leach has the same model with big power and is just a phone call away.
A performance enthusiast for most of his life, Babcock quit dirt track motorcycle racing when he was 54 years old. He started doing poker runs in 2002 and owned an Eliminator 26' Daytona that ran 127 mph with big power and an IMCO Extreme drive.
Babcock's wife doesn't like running at the speeds that his 36 Daytona hits so he takes along his friend Bruce Douglas. They started the year in with the Chesapeake Bay Power Boat Association's 2016 Memorial Day Poker Run that is based at Tolchester Marina in Chestertown, Md., and will do the Poker Runs America Rock the Bay Poker Run the last weekend in August.
In addition to building the engines for and rigging his own boat, Babcock and his company Bob Babcock's Service center put together the motor and rigged Dee Early's 28' Extreme, Crazy Chicken, that races in the Production 4 class in Superboat International.