Fort Pierce, Florida-based Spectre Powerboats – a brand that has proven its mettle over the years in the offshore performance boating scene – has been under new ownership (and direction) since early 2015 and a handful of models will be unveiled at the turn of the new model year.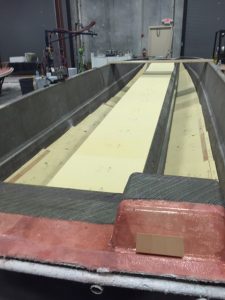 Spectre Powerboats owner, Chris Ivey, told PRA that following four months of improving the existing moulds, the company is currently finalizing its 30' and 32' outboard-powered catamarans while a 36', 40', and 48' catamarans are in the development stages. A 39' V-bottom is also in the mix.
"After buying the moulds in January, we decided to do a redesign and get them where we wanted them tobe," said Ivey. "The moulds will be 2016 models and the plan right now is to have three of them (the 32, 30' and 39') at the Miami International Boat Show."
Starting with the 30', Ivey explained the company's goal is to design a more modern profile with a flattened deck, a wrap-around windshield, and the widening of the stern to add a fourth seat. Ivey also explained they have smoothed out the sides, thus eliminating the seams for a more rounded, smoother profile.
"We have the 30' and 32' in construction right now with these modifications, then we'll be doing the 36' and the 39.'"
Ivey also pointed out that the new models won't be "outrageously priced" while keeping value, service, and of course, quality as its top priority.
"Spectre Powerboats has always been a solid boat with a hull that ran very well. Some of these boats get very expensive and one of the things people liked about Spectre was the cost. It was a performance boat that people could afford and that is how we are going to keep it. Another element we are working towards is supporting and servicing new customers as well as previous Spectre Powerboat owners."