For the sixth consecutive year, Ron Szolack invited a select group of owners to his home in Michigan to celebrate and honor Skater powerboats.
Photography by Jay Nichols, Naples images.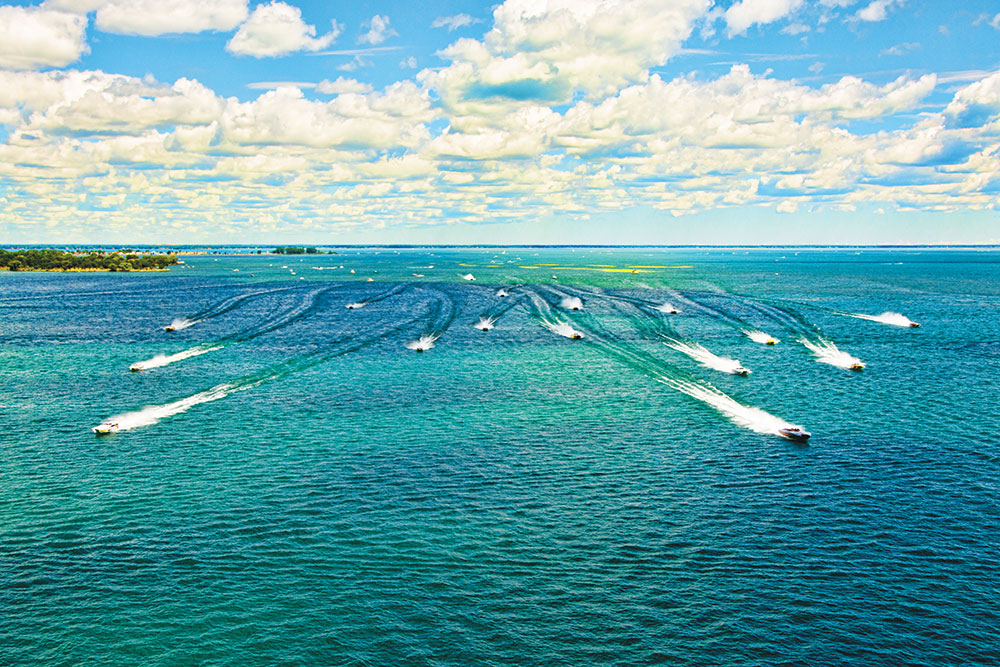 Perhaps the best illustration of how laid back the annual Skaterfest gathering of owners of boats built by Douglas Marine in Douglas, Mich., came at this's event. A new participant who owns a Skater 36 Classic found out he was getting married the afternoon of the same day as the Skaterfest fun run.
Event organizer Ron Szolack said that the groom to be went on the fun run in the morning and got married that afternoon.
"We just wing it," said Szolack. "If somebody is running late, we hold up."
The 2016 gathering was the sixth annual event. Szolack, a longtime Skater owner, decides who he wants to invite to his home in Harrison Township, Mich., and starts making phone calls. He owns the Flight Club, an adult entertainment establishment in Inkster, Mich., and the weekend starts there on Friday night for Skater owners to get together and either catch up with old friends or make new ones.
Longtime Skater owner/racer Vinny Rifice has attended Skaterfest many times, often without his own boat. In 2015, he went with Dr. Sam Slinger in his Skater 388 and this year Rifice rode with Cole Leibel."You can't not go if you're a Skater lover," said Rifice. "We went out and showed support for Ron."
What sets apart Skaterfest is that it's made up of boatowners who want to honor and pay tribute to Douglas Marine president Peter Hledin. Similar events are usually put on by a manufacturer, but when the customers decide to stage the run, it says something about how a company treats them.
"It's nice to hang out and talk with Pete," said Rifice. "I support him as much as I can for what he's done for the sport.
Szolack said he initially went to Hledin to ask him if he would be interested in having a get-together for Skater owners only. Every year, Szolack invites about 20 boats and owners to Skaterfest. All the guests stay at Szolack's house and this year on Saturday night, they dined on prime rib, chicken and shrimp prepared by the chef from his restaurant.
Leibel, who is the nephew of famed Canadian offshore powerboat racer Lorne Leibel, brought his Skater 388 powered by twin Mercury Racing 1350s. He appreciated the laid back schedule and the camaraderie, saying. "Everyone's kind of like-minded people."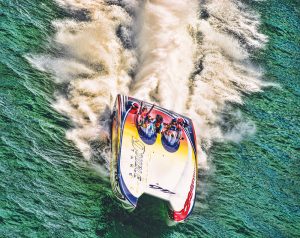 Sterling Performance president Mike D'Anniballe and his wife Connie brought her Skater 30, which is powered by Sterling engines—obviously—with IMCO Xtreme drives. "It's a fun day," said Mike D'anniballe. "Everyone eats well and has a bunch of fun in a boat in a very nice area. It's organized yet very casual."
Devin Wozencraft, owner of Wozencraft Insurance, made his first trip from his home in Tustin, Calif., to the event. His outboard-powered Skater 30-footer was at an event in Nashville, so they flew to Tennessee, picked it up and towed it up to Skaterfest.
"I've been very blessed to be friends with Ron and he refers a lot of his friends to me for insurance, so he called and said he'd like me to bring my new 30-footer out," said Wozencraft.
He added, "There are a couple of key ingredients to making it so good. There's fewer people than there are at other runs so it becomes an environment where you get to know more people. You really leave it feeling like you've made new friends."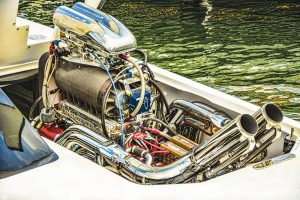 Something that rarely happens, Hledin addressed the crowd during the Saturday town-hall meeting. "He was very cordial and very thankful for everybody being there and supporting Skater," said Wozencraft.
Chris Mills, who owns Boat Customs in Caledonia, Mich., has been to every Skaterfest. He said that approximately 50 percent of his company's work is done to Skaters and he appreciates the knowledge that all the Skaterfest attendees have about their boats."It's low key with lots of
good boat talk and performance," said Mills."It's one we look forward to every year."
On Saturday morning after the town hall meeting, the fleet left Szolack's house and headed to the ambassador bridge that connects Detroit to Windsor, Ontario. Then it was off to Pepper Joe's on the St. Clair River for lunch. The drivers said they enjoyed the mix of big open water and the calmer conditions on the river.
One of the more famous lady Skater owners/drivers is Tristan Garvin who said that this year's event had, "Probably the best weather since Skaterfest started on Lake St. Clair.She continued, "All the little tips and tricks were shared and everybody came away with a little more knowledge and some new friendships." And that's what Skaterfest is all about.