The Desert Storm Poker Run and Shootout dazzled the go-fast crowd in Lake Havasu City once again. This event was presented by Lake Racer LLC and Teague Custom Marine.
In its 15th year, The Desert Storm Poker Run and Shootout – presented by Lake Racer LLC and Teague Custom Marine – once again dazzled the go-fast crowd in Lake Havasu City, AZ, with high-octane performance, an excellent poker run and an overwhelming attendance that exceeded event organizer's expectations.
"This is one of the first events of the year and it's a major kick-off event for West Coast performance boaters," said event organizer Jim Nichols. "Lake Havasu and the region are very unique for an event such as this. The attendance this year was way beyond our expectations with a total of 160 boats and 152 in the poker run, after a few last minute entries came in. Last year we had 157. We are very happy with the results."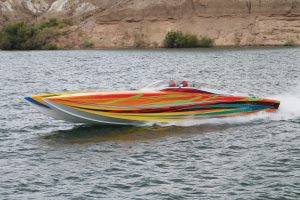 Following the Poker Run Friday, which highlighted an exciting course, a beach party with live entertainment and photo ops for participants, the action reached its peak Saturday during the famed Desert Storm Shootout. Following Don London claiming the King of the
Desert title in 2012 and 2013, he decided to retire from the Shootout for 2014. Even though it was anyone's game, long-time performance boater Gary Smith along side Larry Peto hit the speed du jour, reaching an impressive 170 mph (178 on radar) in Smith's 40' Skater "Predator," powered by 1850 hp Larry Engine's and Marine motors with West Coast Drives, spinning 38" 5 Axis props.
"We weren't running very well," Smith told Poker Runs America following the Shootout. "We should have been more than 180 mph (on radar). We were popping and missing on the top end so we let off a little. Once we got back up to the top end, we managed to get a decent number."
Smith is no stranger to the top spot in Havasu, having earned the King of the Desert title in the late 1990s and early 2000s.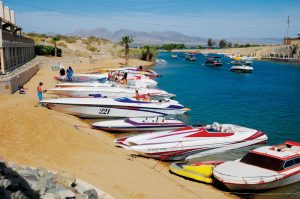 "I was hoping that Don London would come out in efforts to hit a King of the Desert triple win," added Nichols. "Last year he (Don) hit 180 mph and the year before he hit 170 mph. But as Don said "I have done it, now I am retiring." However, having Gary coming back to win is very cool."
While Smith and Peto took the top honor, several impressive speeds were made by other contenders in the shoot out as well. For instance, Buck Stracener, a common competitor in Desert Storm and even in the annual LOTO event, hit a class winning effort (C5X1) of 139 mph in his Nordic 28 SS; Brad and Cindy Macaulay reached the top of their class (CSP2) with 151 mph in their M31 DCB; Win Farnsworth recorded 139 mph in the class of C6S1 with his M41 DCB; Charles Brown pushed his throttles to 161 mph in a M35 DCB; and Gary and Rosemary Colledge cranked their speedo up to 140 mph in a 40' Skater.
"One of the reasons why we do this event in April because it gets so hot in May and June," said Nichols. "Another challenge of Lake Havasu is the high wind. Two years ago, we moved the venue to the channel between California and Arizona, right next to the island. It's a more protected channel than anywhere else on the lake. By moving it there, we have been able to have the shootout in ideal conditions."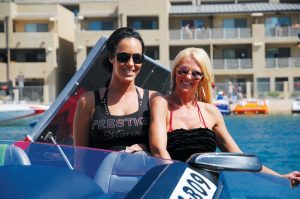 Another highlight during the five-day event included the 165-boat poker run, which ran without a hitch, leaving all the players in awe following a gorgeous and exciting run on Lake Havasu. Taking first place was Buck and Susan Stracener of Moreno Valley, CA. with their 28SS Nordic while in second was Chad and Diane Budge of Jackson, WY. aboard their DCB M31. In third was Chris Winter of Yucaipa, CA. running his 27 Eliminator Daytona and in fourth was Steven Sundling of Lake Havasu City, AZ, riding in his DCB M31 "Jolly Roger."
While speed and excitement was the name of the game, action took place off the water as well. The annual Thursday Night Street Party, in typical fashion, allowed the sponsors to exhibit their boats, products and wares for the thousands of spectators along McCullough Blvd. downtown Havasu. IMCO, Team CRC, Teague Custom Marine, Mercury Racing, Boost Power, Douglas Marine Skater, MTI, – to name but a few – were all exhibiting, displaying their exotic hardware. With restaurants and local bars buzzing with live entertainment, spectators and participants socialized into the night enjoying the finest Havasu City had to offer.